The View's Meghan McCain Changes Subject to 'Infanticide,' Refuses to Let Co-Host Get a Word In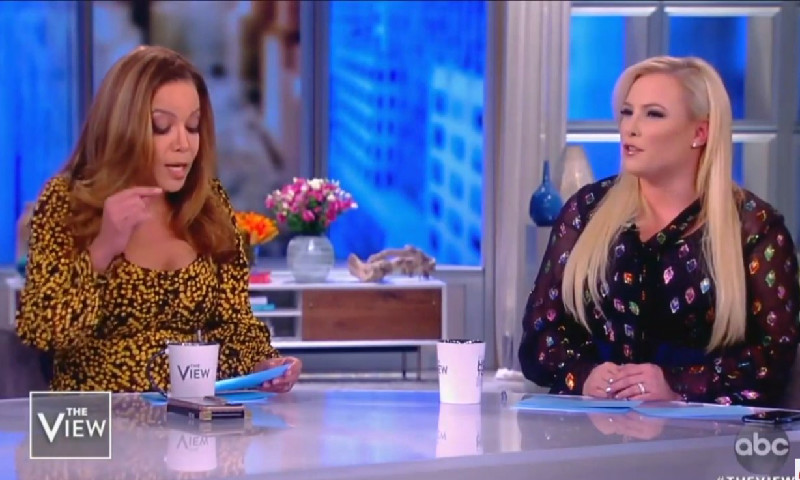 The View's Meghan McCain single-handedly derailed a segment Tuesday when she flipped the subject from Rep. Alexandria Ocasio-Cortez's (D-NY) concerns about child-bearing amid climate change to late-term abortion and "infanticide." And once the topic was changed, she refused to let her co-host Sunny Hostin get a word in edgewise, prompting a rebuke from her colleague.
Discussing AOC saying that it's a "legitimate question" to ask whether it's okay for young people to have children in the face of climate-related disasters, conservative co-host and former Fox News commentator Abby Huntsman argued this was the progressive lawmaker's "most outrageous" position yet. McCain, who had been scowling throughout the
segment, took that opportunity to spotlight Sen. Ben Sasse's (R-NE) Born-Alive Abortion Survivors Protection Act that was blocked in the Senate Monday.
Noting that the bill would punish any doctor that doesn't provide health care for a baby born after an attempted abortion, McCain claimed that Democrats "don't believe a baby born after a botched abortion should receive medical care" as they voted to block the legislation in the Senate.
"If Democrats want to win an election going forward, are you going to be the party of late-term abortion?" McCain huffed. "The party of infanticide? Is this the platform you're going to have?!"
Hostin attempted to enter the fray, letting McCain know that she needed to "push back" against her argument. McCain, however, seemed immediately offended as she thought Hostin was "pro-life like me." (Hostin explained that she is, indeed, personally anti-abortion.)
As McCain continued to dominate the conversation rather than allow Hostin to speak, Joy Behar — McCain's regular on-air sparring partner — asked the conservative host if she was going to let Hostin "tell her side."
The answer would be no.
While Hostin attempted to point out that Sasse's bill was unnecessary as it's already required for doctors to provide medical care to babies born alive, McCain repeatedly interjected, saying how "disgusting" this was and that the doctors need to be punished.
With McCain determined not to allow Hostin to make her case about Sasse's bill, Behar eventually was forced to step in and send the show to break, all while Hostin begged: "Can I finish?"
Returning from commercial, Behar provided Hostin the opportunity to make her argument without interruption. Though McCain sat silently during Hostin's remarks, when done, the former Fox News host made sure to get the last word.
"If the Democratic Party wants to be the party of infanticide, that is their choice," McCain sneered.
Watch the clip above, via ABC.