Fox News Host And Climate Denier Attack Bernie Sanders: Climate Change Is The Religion Of The Left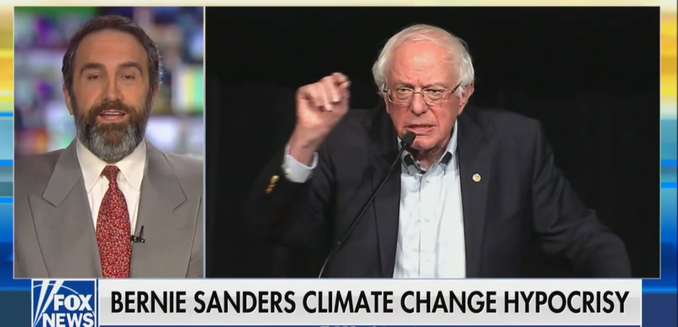 Fox & Friends spoke to a climate change denier on Tuesday morning's show about Senator Bernie Sanders' use of private jets during the 2016 election. Former Hillary Clinton staffers have complained that Sanders used jets while campaigning for her. Fox News was eager to point out the apparent hypocrisy.
Host Pete Hegseth spoke to Marc Morano, who runs the website Climate Depot. The site disputes the scientific consensus on man made climate change and frequently posts sensationalist stories arguing against the reality of climate change.
"This is amazing," Morano told Hegseth. "You got Beyoncé, Jay-Z, Katy Perry and Bernie. What do they all have in common? The Hillary Clinton campaign all paid them fly around and campaign for her in private jets. Bernie Sanders has made his career out of, what they say, keeping fossil fuels in the ground. The problem is, he can't keep from using them lavishly in the air. This is rank hypocrisy on the level that I think only Al Gore could compete. Because outside of Al Gore in electoral politics, Bernie was the guy as the number one climate guru and here he is just can't keep himself out of these private jets. He could have flown commercial."
Hegseth played another clip of Sanders talking about preserving the planet for future generations.
"Is this the religion of the left?" Hegseth asked with a straight face.
"It is," Morano replied. "In fact, the UN climate chief has actually said when he stepped down, quote, 'Global warming is my religion,' unquote."
Morano is referring to former UN climate official Rajendra Pachauri and unsurprisingly Morano has misrepresented what Pachauri said and what he meant. According to the UK's Guardian newspaper, upon stepping down in 2015 Pachauri said: "For me the protection of planet Earth, the survival of all species and sustainability of our ecosystems is more than my mission, it is my religion."
Morano's site, Climate Depot, currently leads with a story entitled, in part, 'Days of no federal challenge to Climate Bullsh*t Coming to an end!' It is funded by the Committee for a Constructive Tomorrow, a non-profit organization that is also engaged in climate change denial.
Fox News did not clearly state that the guest attacking Bernie Sanders was a climate change denier
Watch the video above, via Fox News.