Under Armour Board Questioned CEO About Unusually Close Relationship With MSNBC's Stephanie Ruhle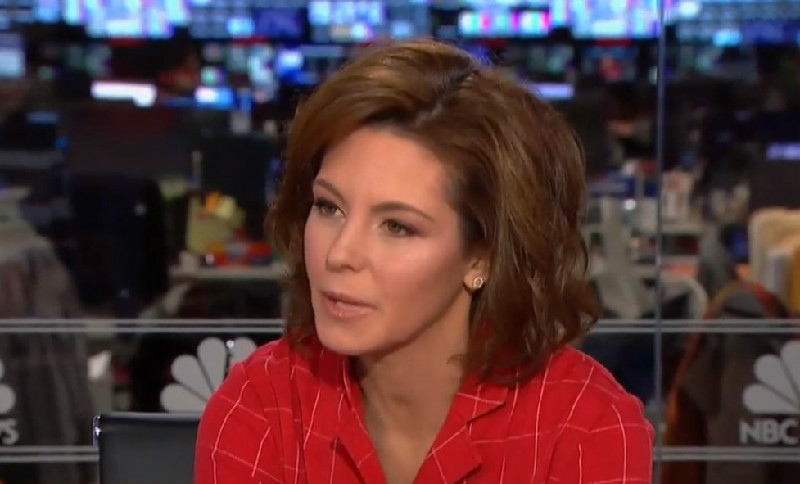 The Wall Street Journal reported Thursday that Under Armour CEO Kevin Plank was asked by the company's board about the nature of his relationship with MSNBC anchor Stephanie Ruhle after they uncovered emails showing the two were intimate. Plank, meanwhile, said the matter was personal and no company funds were used.
Per the Journal, many staffers at the sports apparel business felt that Ruhle's involvement with Under Armour over has been "unusual and problematic" as Plank had sought her business advice over the years. Plank apparently leaned on Ruhle over management for advice and used the company's private jet to transport her on trips, leaving employees "unsure how to handle her feedback because many people believed she was romantically involved" with Plank.
Both Ruhle and Plank are currently married.
It would appear these concerns led the board to approach Plank about his relationship with Ruhle. Per the Journal's article:
Last year, Mr. Plank's relationship with Ms. Ruhle was brought to the attention of the Under Armour board after the company uncovered emails that showed an intimate relationship between them, some of the people said. The board asked Mr. Plank about the nature of the relationship and whether company assets were used, these people said. Mr. Plank told directors that it was a private matter and that no company funds were spent, they said. It couldn't be determined if the board took further action.
In response to the Journal's article, Under Armour's senior vice president of communications denied there was a romantic relationship between Ruhle and the company's CEO.
"Mr. Plank and Ms. Ruhle are friends," she said. Both Ruhle and Plank declined to comment for the piece.
Ruhle hosts two weekday programs on MSNBC, Velshi & Ruhle and MSNBC Live. Per sources at Under Armour, employees were told to wait for Ruhle to go on television and address the backlash against the 2016 rollout of the company's "Chef Curry" shoe rather than immediately respond on social media. The company denied this was the case, saying to "suggest that we waited to respond for a particular reporter is ridiculous."
It was also reported that Ruhle advised Plank to engage with President Trump in 2017 following the election. This was apparently at odds with many of the company's executives who felt it was best that Under Armour keep its distance from the president. Plank went on TV and praised Trump after joining one of the president's councils, causing backlash from Under Armour sponosered athletes.
Prior to joining MSNBC in 2016, Ruhle was an anchor for Bloomberg TV for five years, leaving Deutsche Bank in 2011. Bloomberg touted her as a "strong journalist" during her tenure there while MSNBC declined to comment when Contemptor reached out to the network.
While the network declined comment on the report, a number of Ruhle's colleagues took to Twitter to push back on what they saw as a "hit piece."
I have known @sruhle for 10 years. This is a total hit job and completely unfair. She loves her family more than anything. Where is the editorial control on suggesting innuendo without any evidence? @ThomasFarley is right. https://t.co/5URLefq3hZ

— William D. Cohan (@WilliamCohan) February 21, 2019
I have asked @SRuhle career and business advice regularly for 20 years. She is as smart & intuitive as anyone I know. Of course Kevin asks her advice. Kevin asks my advice on business issues too. This story belongs in a tabloid and not the WSJ and it is a tad sexist https://t.co/K5iyGDbaK6

— Thomas Farley (@ThomasFarley) February 21, 2019
"This story belongs in a tabloid and not the WSJ and it is a tad sexist," Thomas Farley wrote.
Meanwhile, others questioned the ethical issues of a well-known television news personality advising a company:
Unless Stephanie Ruhle disclosed her relationship, this seems pretty unethical https://t.co/L83UseW3su pic.twitter.com/DMBiG14PXr

— Alex Griswold (@HashtagGriswold) February 21, 2019
Ruhle recommended Under Armour hold off on commenting when people started roasting their Chef Curry shoes online (which is, according to comms and corporate experts, not best practice: https://t.co/WiqtCOyso9) pic.twitter.com/HDTZmeezdq

— Sara Germano (@germanotes) February 21, 2019
When the white Steph Curry shoe launch went poorly, Under Armour's CEO told employees to stand down because MSNBC star Stephanie Ruhle was going to say something on TV. @khadeeja_safdar on a strange relationshiphttps://t.co/OpisYb87I8

— Dave Benoit (@DaveCBenoit) February 21, 2019