Tulsi Gabbard: Bashar al-Assad Gassed His Own People, But So Did 'Other Terrorist Groups'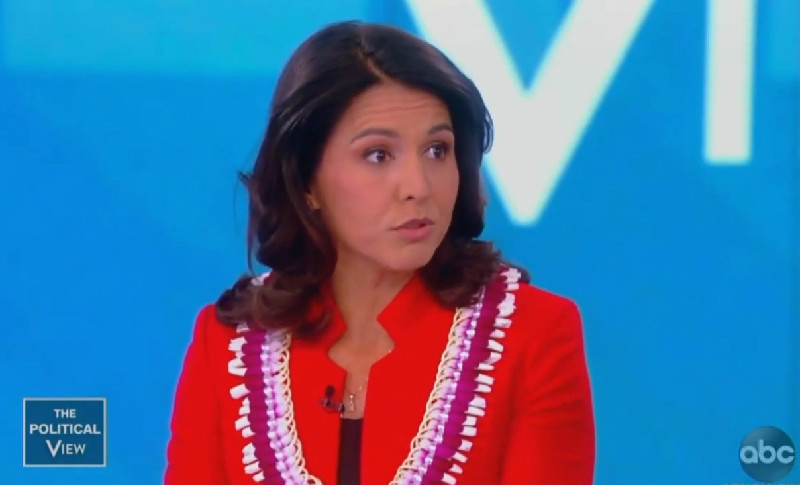 Appearing on ABC's The View Wednesday, Democratic presidential candidate Tulsi Gabbard stood by her remarks earlier this month that Syrian dictator Bashar al-Assad is "not the enemy of the United States" while also engaging in a bit of whataboutism regarding al-Assad's use of chemical weapons against his people.
With the conversation steering towards the Hawaii congresswoman's foreign policy views, conservative View co-host Meghan McCain confronted Gabbard on her seemingly pro-Assad position, stating that when she hears Gabbard's name she thinks "Assad apologist." McCain went on to claim that saying Assad is not America's enemy is tantamount to endorsing the gassing of children, causing Gabbard to retort that McCain was "putting words" in her mouth.
"You did not say that Syrian president Assad is not the enemy of the United States?" McCain shot back. "Say it now, clarify."
Sarcastically smiling at McCain, Gabbard said that an "enemy of the United States is someone who threatens our safety and our security," adding that it is indisputable that Assad is a "brutal dictator." She then made this observation on his use of chemical weapons on the Syrian population:
"There's no disputing the fact that he has used chemical weapons and other weapons against his people. There are other terrorist groups in Syria who have used similar chemical weapons and other weapons of terror against the people of Syria. This is an unfortunate thing that wrenches at every one of our hearts. This is not something that I'm disputing, nor am I apologizing or defending these actions."
Gabbard further noted that since the United States "started waging a covert regime change war" in Syria things have only gotten worse for the Syrian people, not better. As she continued to assert that both Al Qaeda and Iran both have greater influence in Syria, McCain interjected that al-Assad is "gassing his people."
Watch the clip above, via ABC.