Andrew McCabe: It's Possible Trump Took Orders From Russia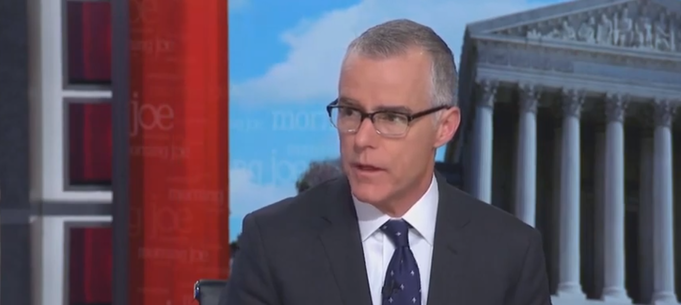 Former FBI Deputy Director Andrew McCabe believes President Donald Trump could have taken orders from Russia. Speaking to MSNBC's Morning Joe, McCabe told journalist Willie Geist that Special Counsel Robert Mueller's investigation will find out what Trump's relationship with Russia is.
McCabe told the Morning Joe panel that he didn't meet face to face with Trump until after former FBI Director James Comey was fired. MSNBC contributor Mike Barnicle wanted to know if Trump had committed obstruction of justice by firing Comey.
"We now are all fairly familiar with the firing, the aftermath of the firing, and at this point in time, given everything that you know, everything that you've said, everything that you've written, would you, as a private attorney or a government attorney, be confident in taking an indictment for obstruction of justice on Donald J. Trump to a grand jury?" Barnicle asked.
"That's a very, kind of, a loaded question for me, particularly coming out of my previous position," McCabe said. "What I can tell you, Mike, is this: I was confident in May of 2017, that we had ample facts to indicate that the President may have committed obstruction of justice. That's the point that the FBI is in, right? We decide when and what we investigate. And we do it, not based on politics or because we like the guy or we don't like the guy or we think this case would be interesting or fun, we do it because of the facts we have at the time. And at that time, it was abundantly clear to me we had enough facts to indicate that that crime may have been committed."
"You were asked yesterday on ABC whether or not you believed Russians ordered President Trump to fire then FBI Director James Comey and your response was, quote, 'We don't know,'" Wille Geist said. "Does that mean you leave open the possibility the President of the United States was taking direction from Russia?"
"Absolutely. That's the possibility that exists in a counter-intelligence investigation," McCabe said.
"Do you believe, as some have suggested, that the President of the United States is a Russian asset?" Geist asked.
"You know, I can't sit here, Willie, and tell you that I believe that," McCabe said. "All I can tell is I know we had good reason to open that investigation. And I'm quite confident Director Mueller and his team will get to the bottom of that."
Watch the video above, via MSNBC.