Trump Told Andrew McCabe 80% Of The FBI Voted For Him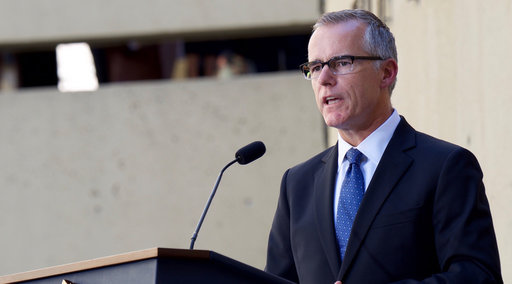 President Donald Trump told former acting FBI Director Andrew McCabe that 80% of the FBI voted for him in the 2016 presidential election. McCabe gave an interview to 60 Minutes Overtime Sunday night and he revealed the 'bizarre' interview he had with Trump in the Oval Office.
"He began by talking to me about his Electoral College results in the state of North Carolina, which I didn't really know about or understand how that related to the position of FBI director," McCabe told CBS' Scott Pelley.
During this 'bizarre experience', Trump told McCabe about 'the support that he enjoyed within the FBI.'
"He estimated that 80% of FBI employees must have voted for him, and he asked me if I thought that was true," McCabe told CBS. "I said, 'I have no idea who people in the FBI voted for. It's not something that we discuss at work.'"
While Trump and his allies have recently attacked McCabe, particularly following his remarks about using the 25th Amendment to remove the President, McCabe claimed that Trump had praised him in the Oval Office.
"He talked about how great it was that I was here interviewing and wasn't it terrific that I was being considered," McCabe said. "He said, 'you know, you actually might get the job.' I said, 'thank you.' He said, 'but if you don't, you'll just go back to being a happy FBI guy'."
Trump also reportedly asked McCabe how he voted in 2016, which apparently shocked the acting FBI director. He would later tell Trump that he didn't vote in 2016 because of ongoing investigations.
"He asked me who I voted for, which was striking because I had been counseled for years by our internal ethics advisers that you never ask people who they voted for," he said.
Trump didn't ask McCabe about how he would run the FBI but was more interested in McCabe's political leanings. McCabe has been a Republican for years.