CNN Analyst Blasts Robin Roberts' Jussie Smollett 'Celebrity Interview': She Didn't 'Press' Him on Facts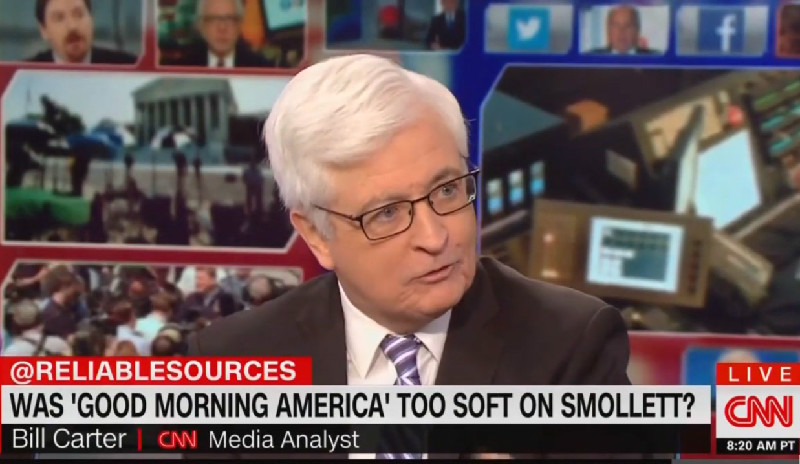 After it was reported that Chicago police now believe that Empire star Jussie Smollett orchestrated last month's attack on him that was originally investigated as a hate crime, CNN media analyst Bill Carter took ABC's Robin Roberts to task for giving Smollett a "celebrity interview" last week, stating that the actor wasn't subjected to tough questions in the aftermath of the alleged assault.
During a Reliable Sources panel discussion on the Smollett situation and the growing likeliness that he perpetrated a hoax, host Brian Stelter noted that if Smollett lied about being attacked by Trump supporters because he's gay and black, "he's hurt real victims of hate." He then asked Carter about Roberts' Good Morning America interview with Smollett, wondering if she was "too soft on him."
"Even by the time he sat down with Robin Roberts, there were a lot of doubts about his story," Stelter added.
"Absolutely," Carter exclaimed. "She had to press that, and she didn't really do it. Interestingly, he's a celebrity besides being a victim. He's an actor."
He continued: "That was a celebrity interview more than a news person interview. That's the way it felt like to me. Instead of getting to the facts, it was much more about him and his — the effects on him and things like that."
Carter went on to assail Roberts for not doing a "news interview" while stating that the "media was not able to question him really closely about this." He added that when the media did start looking closer into the story, it fell apart "because it was full of red flags."
Stelter observed that this all contributed to a sense among Trump supporters that there was a campaign against them with this attack, highlighting Donald Trump Jr's recent tweets bashing the media over its coverage of the alleged attack.
"Look, Donald Trump Jr. is a hammer," he stated. "Everything he sees is a nail. And everything is about attacking the media. He'll attack the media no matter what, but he's attacking it today because he says the press fell for this. I wonder how much of that we should acknowledge."
Watch the clip above, via CNN.