CNN Anchor: Mike Pence Went From Opposing Executive Abuse to Saying 'Thank You Sean Hannity, May I Have Another'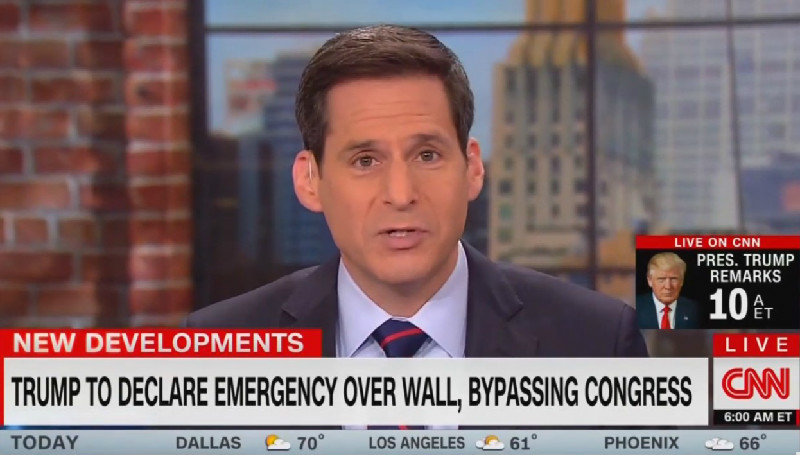 CNN anchor John Berman called out Vice President Mike Pence and other Republicans for hypocrisy Friday morning, specifically highlighting Pence's 2014 comments opposing then-President Obama's executive actions and comparing that to his current support for President Trump's declaration of a national emergency to build a border wall.
On Thursday evening, after it was announced that Trump would sign a funding bill to avert another government shutdown and simultaneously declare a national emergency, neoconservative pundit Bill Kristol unearthed a video of Pence slamming Obama for trying to enact his immigration policies through a "stroke of a pen."
Mike Pence: The president usurping power and end-running Congress is "a profound mistake." pic.twitter.com/GjDbHDvh0u

— Bill Kristol (@BillKristol) February 15, 2019
"If the president were to go through with this, he is acting outside the consent of the governed and is not providing leadership to solve this issue facing our country in the way the American people would expect a leader to do," Pence said at a 2014 Republican Governors Association event. "Signing an executive order, giving a speech and barnstorming around the country is not leadership."
With Trump taking his cues from Fox News this week and essentially following a plan outlined by Sean Hannity Wednesday night, Berman took the opportunity to tweak Pence and Trump's GOP allies for turning their back on their supposed principles and supporting the president's actions.
"2014 Mike Pence and 2014 Republicans battled President Obama in public and in court over similar actions," Berman declared. "But 2019 Mike Pence and many 2019 Republicans are already saying, 'Thank you, Sean Hannity, may I have another?'"
And, of course, it wasn't just Pence or some GOP lawmakers that railed against Obama back then for abusing his authority. Because there's Always A Tweet, folks noticed that Trump called on Republicans to push back against Obama over his executive actions and not allow him "to subvert the Constitution of the US for his own benefit & because he is unable to negotiate w/ Congress."
Repubs must not allow Pres Obama to subvert the Constitution of the US for his own benefit & because he is unable to negotiate w/ Congress.

— Donald J. Trump (@realDonaldTrump) November 20, 2014
Watch the clip above, via CNN.