CNN's Kirsten Powers: Why Is Trump Convinced Hannity and Ingraham Have More Power Than He Does?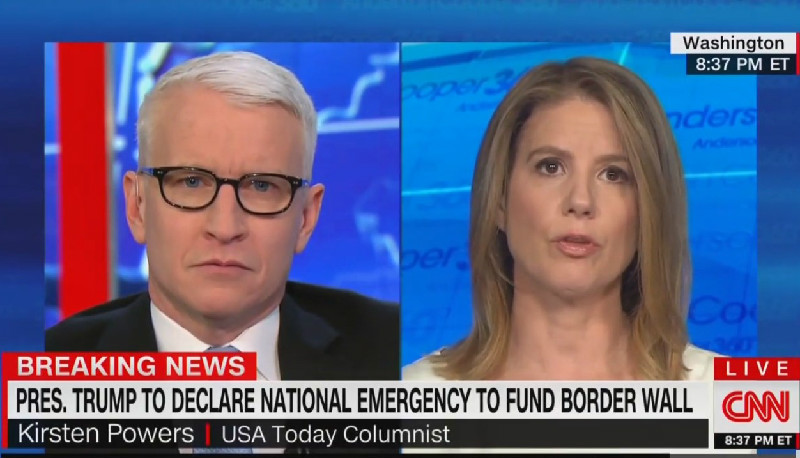 With President Trump apparently following the advice of his Fox News cabinet by declaring a national emergency to get additional funding for his long-promised border wall, CNN political analyst Kirsten Powers wondered why the president seems to believe that Fox on-air personalities have more power than he does, adding that the GOP has completely ceded itself over to Trump.
Prior to Thursday's announcement that the president will sign a funding bill to avert another government shutdown along with declaring a national emergency, Fox News host and Trump confidant Sean Hannity said on his Wednesday night show that he was "not as concerned as some other conservatives if the president signs the bill," but Trump needed to declare a national emergency at the same time. This came after Hannity and other various hosts blasted the spending bill for only containing $1.375 billion for border security.
The New York Times, meanwhile, reported that Team Trump called Hannity and Fox Business host Lou Dobbs — another informal Trump adviser — to defend Trump signing the bill amid conservative criticism of the budget compromise, stating that "Mr. Trump deserved support because he still forced concessions." Basically, they wanted Trump's staunchest media allies to spin this as a win for the president.
Discussing how the president seems to be governing to keep Fox News happy with CNN anchor Anderson Cooper and CNN analyst Max Boot, Powers asked why the president doesn't understand that Fox opinion hosts and commentators will always come around to him, no matter what.
"They fairly quickly self-corrected after hearing, you know, from the White House," she stated.
Powers reminded viewers that during the early days of the 2016 presidential campaign, Donald Trump wasn't Fox News' favorite and that he actually hated the network for a bit because they didn't give him the coverage he wanted. Trump, however, "ended up bending them to his will," she noted.
"I think he should call them on their bluff, personally,' Powers continued. "That's what I would do if I was him. I know for a fact they would absolutely freak out if Donald Trump started going after them the way he did before because it really showed Fox that they weren't in control of their viewers, that Donald Trump was. And so I don't understand why he is so convinced that Laura Ingraham and Sean Hannity have more power than he does. It's bizarre to me."
She went on to observe that the president has control of the GOP and "Fox News has hitched its wagon to Donald Trump," adding that the "base is more" with the president than Fox.
Watch the clip above, via CNN.