Morning Joe Calls Out GOP Hypocrisy: They Peddled 'Ugly Anti-Semitism' in 2016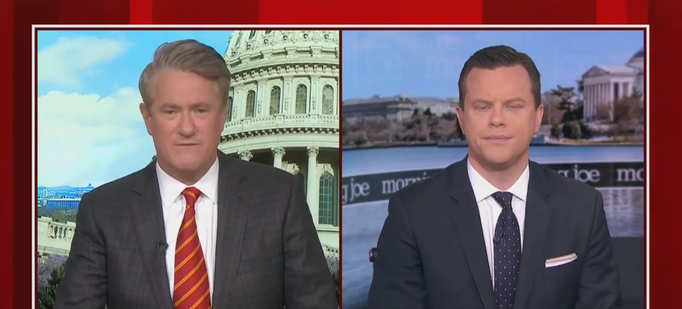 Joe Scarborough slammed Republicans for their hypocrisy on Anti-Semitism on Wednesday's Morning Joe. The MSNBC host made a strong attack against President Donald Trump and House Minority Leader Kevin McCarthy for their response to Democratic Representative Ilhan Omar's tweet about Israel.
"That old sort of racist belief that Jews are just about money. I mean, you hear people talking at times about Jews and money, whether it's in politics or whether it's in business, people, say Jews are — they're great negotiators," Scarborough said. "Obviously, Mika, that's something that, from what the President just said there, that's something Donald Trump would never fall victim to himself, right?"
Scarborough then showed a clip of Trump talking to a Jewish Republican group before the 2016 election. In the video, Trump repeatedly jokes that he doesn't want money from them and says that everyone in the room is a great negotiator who can get better deals.
"One Jewish money joke after another Jewish money joke after another Jewish money joke. He actually lapped the Congresswoman about five times there," Scarborough said.
"I'm just wondering, is Kevin McCarthy going to call for his resignation? Because I haven't heard Kevin McCarthy criticize that. Again, remember the Star of David picture? Do we have the Star of David picture? Because when that went up, they were pedaling … just clear Anti-Semitism, ugly Anti-Semitism. I didn't hear Kevin McCarthy or any Republican, I didn't hear Mitch McConnell call for Donald Trump to step down. Mika, the hypocrisy is so extraordinarily thick here."
Later in the segment, Scarborough stopped just short of comparing Trump's rhetoric on immigration to the Nazis.
"I do have to say, though, you listen to all the things that Donald Trump has said, all the racist things Donald Trump has said, You look at all the stereotypes Donald Trump was pedaling, the Jewish stereotypes, and then Mika talked about Donald Trump saying that our immigration policies lead to breeding and infestation."
"You know, there are so many times when people say you should never compare anything any American politician does to what fascists would do or what Nazis did," Scarborough said. "The propaganda, when you start talking about breeding, races breeding, you start talking about the infestation of people, of non-white people, if you don't want me to say that that's something that the Third Reich pedalled in, OK, I won't say it. Just go read a book because that's exactly what they said about Jews."
Watch the video above, via MSNBC.