MSNBC's Steph Ruhle: Don't Know Yet If Hannity's Given Trump 'Permission' To Sign Budget Deal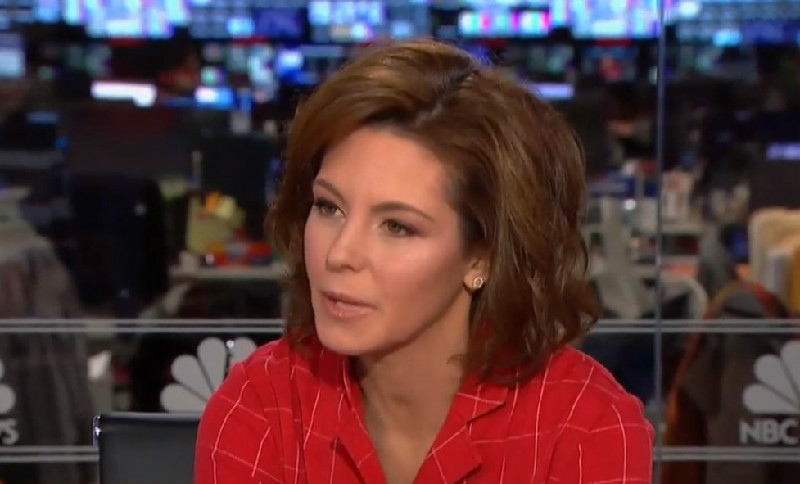 MSNBC host Stephanie Ruhle zinged President Donald Trump over his apparent duty-bound obligation to right-wing commentators, noting that he needs to seek "permission" from primetime cable news star Sean Hannity before signing a new budget deal reached by Senate negotiators.
While the president was holding a campaign rally in El Paso, TX Monday night, news broke that an "agreement in principle" was reached on a spending deal that would include $1.375 billion for border fencing, far short of Trump's initial demand of $5.7 billion for border wall funding and roughly the same amount that Democrats initially offered. The agreement would also limit any border wall construction to "steel slats" and includes a total of 55 miles.
Following the announcement of the compromise, immigration hardliners and MAGA pundits blasted the deal. As Fox News was airing the president's rally, Hannity broke into coverage to grouse that "any Republican that supports this garbage compromise — you will have to explain."
Hannity: "On this so-called compromise, I'm getting details. 1.3 billion and non even a wall or barrier… Any Republican that supports this garbage compromise, you will have to explain." pic.twitter.com/9HXaooxBGP

— Contemptor (@TheContemptor) February 12, 2019
Discussing the agreement Tuesday morning, Ruhle wanted to know what exactly Republicans were getting with this deal before wondering aloud how Trump could spin it positively. She also invoked how beholden Trump is to conservative media.
"We've heard the president criticized — we don't know if he's asked Sean Hannity for permission yet if he can support the deal," she snarked.
Later on, Ruhle played Hannity's remarks before asking former Democratic Congressman Joe Crowley what the president can do when he hears that from one of his most visible and prominent supporters.
"What do members of Congress do when they hear that?" Crowley noted. "Listen to the pundits? Or the constituents? You can see the relief that came out of that meeting yesterday by both Democrats and Republicans."
Over-the-top reaction from far-right figures such as Ann Coulter and Rush Limbaugh in December has largely been blamed for the president backtracking on his initial support of a spending deal, leading to a 35-day shutdown after Trump demanded additional money for the wall. The government was only re-opened last month after a three-week stopgap was passed to negotiate a new agreement.
Watch the clip above, via MSNBC.