Morning Joe Compares Amy Klobuchar To Bill Clinton: 'Like A Dagger In The Heart of Republicanism'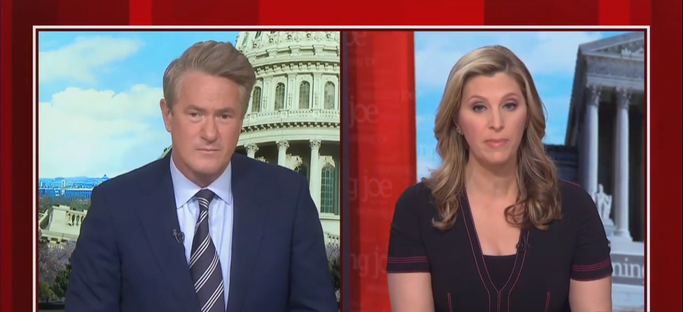 Morning Joe's Joe Scarborough believes Senator Amy Klobuchar could win the White House in 2020, at least if his praise of the Minnesota Democrat is anything to go by. The MSNBC host compared Klobuchar favorably to former President Bill Clinton on Monday's show.
Klobuchar launched her bid for the Democratic presidential nomination on Sunday in cold Minnesota weather and laid out a progressive albeit moderate agenda. Scarborough was particularly impressed by her appeal to voters in midwestern states.
"I thought that Amy Klobuchar did something fairly brilliant," Scarborough said. "The thing that I found most remarkable about Bill Clinton's victory in 1992, and I couldn't believe as a Republican, because I had gotten used to Republicans owning the middle of America – Bill Clinton won every state on the Mississippi River."
"I mean, there was just a blue line that cut – it was like a dagger in the heart of Republicanism and Amy Klobuchar talked about the mighty Mississippi starting in Minnesota at a place where you can walk across it and took us through a journey down the Mississippi River all the way down to New Orleans and, my gosh, I've always thought, if Democrats are going to start winning the White House again, that's how they do it."
Guest Lauren Leader agreed that Klobuchar was aiming to connect with ordinary voters who might have turned away from the Democrats over the last four to eight years.
Host Mika Brzezinski also praised Klobuchar for making her announcement despite the snow.
"I think Amy Klobuchar did something amazing this weekend and I think she put out a visual there, that I don't know if everyone completely got it this way," Brzezinski said. "But looking at her standing in subzero temperatures with the snow blowing down on her face and everyone freezing but wanting to be there for her. Donald Trump would no sooner stand in a snow storm with his bone spurs getting cold, OK, then he would enlist at some point in his life and serve his country."
"He won't stand in the rain," Brzezinski said, with Scarborough agreeing.
"To me, it showed a strength and a grit and a visual that stood her up against Trump right there and set her apart. I thought it was really cool."
Watch the video above, via MSNBC.