Budget Compromise Shuts Out Wall, Leaves Conservatives Fuming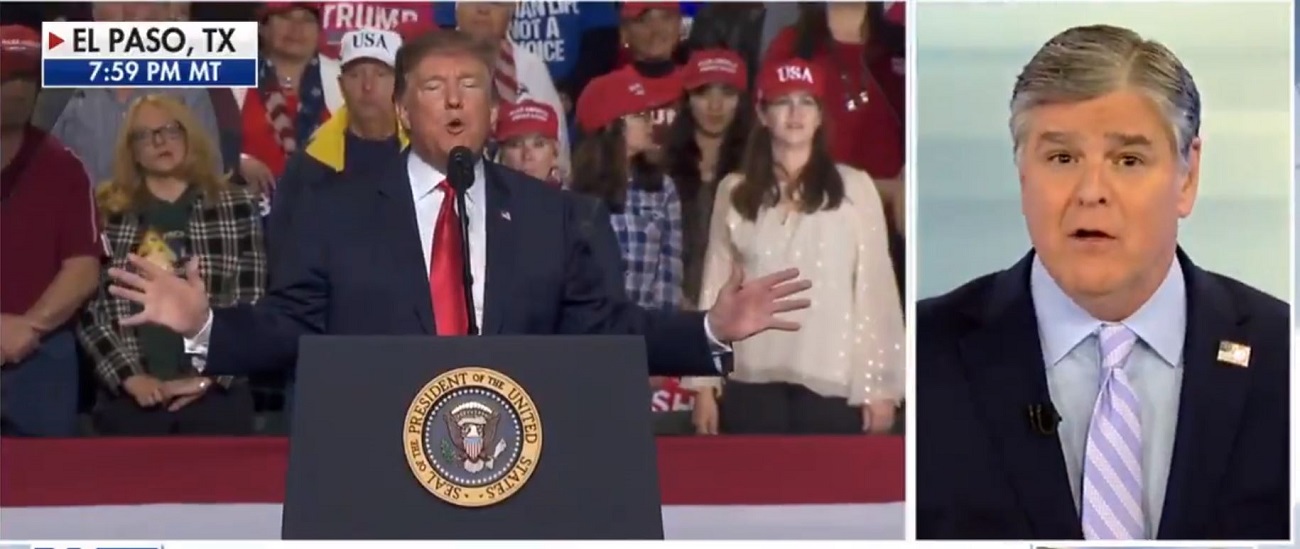 President Trump was about to kick off his latest kundebung on Monday night in El Paso when word came that congressional negotiators had reached a deal to avoid a government shutdown.
Early reports stated that the negotiators had agreed to give Trump $1.375 billion for "physical barriers" such as the type of bollard fencing already constructed on the border. None of this money could be used to construct walls based on any of the prototypes Trump has had built near San Diego. Additonally, the number of beds for ICE detainees is reduced by just over 17 percent. This would mean prioritizing more violent criminals for arrest and leaving more of the nonviolent undocumented alone.
This all led to the odd site of conservatives on TV and social media complaining about the deal that shortchanges the wall even while Trump was onstage promising an enthusiastic crowd that the wall will be built.
Fox News broke into Trump's rally so that Sean Hannity could proclaim the deal a "garbage compromise," which Trump presumably saw as soon as he got back to the White House and fired up his DVR:
Hannity: "On this so-called compromise, I'm getting details. 1.3 billion and non even a wall or barrier… Any Republican that supports this garbage compromise, you will have to explain." pic.twitter.com/9HXaooxBGP

— Contemptor (@TheContemptor) February 12, 2019
The immediate reaction among anti-immigration hardliners was no better:
While the President was giving a great speech in El Paso, Congress was putting together a bad deal on immigration.#DoWhatWeSaid

— Rep. Jim Jordan (@Jim_Jordan) February 12, 2019
Reduction in ICE detention capacity more than cancels out any benefit from that small amount of extra fencing. https://t.co/D8He0RRFg4

— Mark Krikorian (@MarkSKrikorian) February 12, 2019
This deal not only declines to fix catch and release, which is a bigger issue than strategic fencing, it induces more of it by cutting detention beds. Not worth it for 55 miles of fence.

— Daniel Horowitz (@RMConservative) February 12, 2019
Before the rally, Sen. Lindsey Graham (R-SC) appeared on Hannity's show to tell him that he was sure Trump will declare a national emergency if he doesn't get his border wall money. There is reportedly almost no desire among elected Republicans to see him do that. But if Trump wants to keep his base happy, and he almost always does, he may feel he has no choice.
The odds of another shutdown feel a little bit higher at the moment.