Washington Post Reporter: A 'Government Entity' May Have Gotten Jeff Bezos' Text Messages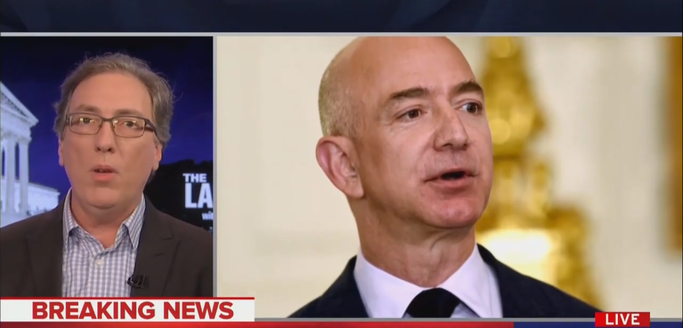 A Washington Post reporter has claimed that a government entity may have accessed Jeff Bezos' messages. Speaking on The Last Word With Lawrence O'Donnell, Manuel Roig-Francia suggested that Bezos' phone may not have been hacked.
This is explosive if true. Bezos' team is investigating texts published by the National Enquirer last year between the Amazon boss and actor Lauren Sanchez. It was initially believed that Bezos' phone had been hacked. Bezos' shocking claims on Thursday that the Enquirer's parent company, AMI, tried to blackmail him have brought what was a relatively minor tabloid story into the mainstream.
"They have begun to believe, the Bezos camp, that this publication by the National Enquirer might have been politically motivated," Roig-Francia told Lawrence O'Donnell. The journalist has been in close contact with Bezos' team of investigators and its leader, security consultant Gavin de Becker.
"I would just add one other thing. You mentioned hacking at the top of the show. Gavin de Becker told us that he does not believe that Jeff Bezos's phone was hacked," the Wapo reporter said. "He thinks it's possible that a government entity might have gotten hold of his text messages."
According to Bezos, AMI threatened to release potentially embarrassing photos of him, including nude photos, if he did not end the investigation into the National Enquirer. The newspaper's publisher, David Pecker, is a close associate of President Donald Trump.
AMI was recently granted immunity from prosecution in exchange for its co-operation in an investigation into hush money payments to Playboy model Karen McDougal. AMI is accused of using 'catch and kill' tactics to prevent the publication of stories embarrassing to President Trump.
Trump has frequently criticized Bezos and the Washington Post, accusing the newspaper of politically motivated 'fake news'.
Watch the video above, via MSNBC.