Hannity Edges Maddow In Total Viewers Thursday Night, Both Shows Tie For First In Demo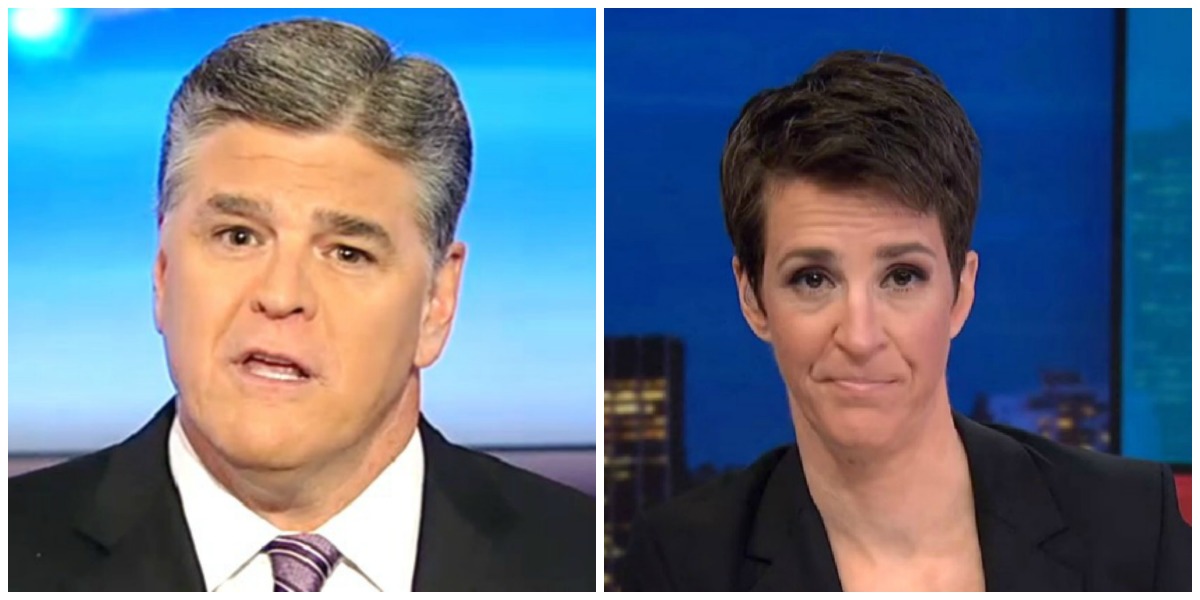 Cable news' top-rated programs — MSNBC's The Rachel Maddow Show and Fox News' Hannity — came down to the wire Thursday night for ratings supremacy, with Hannity barely defeating Maddow in total viewership while both shows tied in the key 25-54 demographic.
According to Nielsen, Fox News led across the board in the 8 PM to 11 PM primetime slot, drawing 2.928 million viewers overall and 484,000 in the key demo. MSNBC averaged 2.666 million total viewers and 426,000 in the demographic. CNN pulled in a demo audience of 348,000 and 1.201 million total viewers.
In the 9 AM to 5 PM daytime period, Fox drew a total audience of 1.523 million and 238,000 in the 25-54 demographic. CNN nabbed a total viewership of 759,000 and 183,000 in the demo. MSNBC captured 1.166 million viewers overall and 132,000 in the key demographic.
Hannity took the top spot overall with 3.344 million total viewers and finished in a tie for first in the demo (556,000). Maddow, which airs opposite Hannity at 9 PM, took second place in total viewership (3.320 million) while also sharing first with Hannity in the demographic (556,000).
Fox's Tucker Carlson Tonight placed third overall in both the demo (491,000) and total audience (3.040 million). FNC's The Five finished in fourth in both metrics, drawing 2.596 million total viewers and 436,000 in the demographic.
The top-rated program on CNN was Cuomo Prime Time, which drew 1.294 million total viewers and 372,000 in the demo.