Fox & Friends Host Calls On Trump To Open Probe Into Adam Schiff For 'No Reason'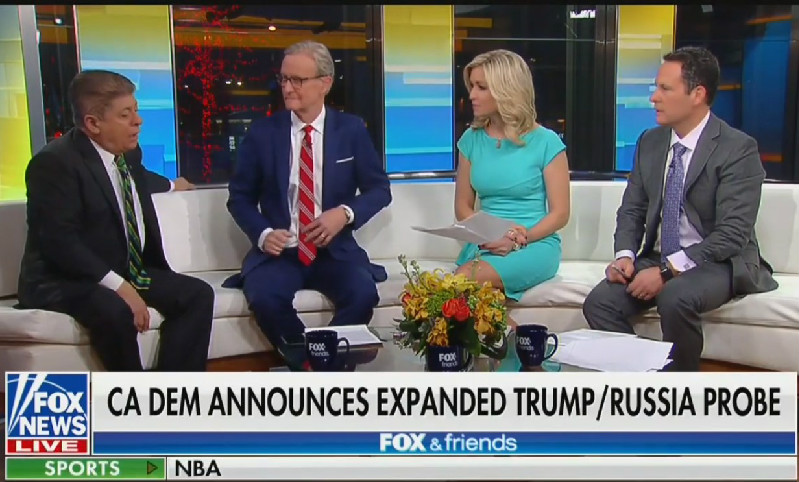 With President Donald Trump spending his Thursday morning tweeting about "unlimited presidential harassment" in response to House Intelligence Committee Chairman Adam Schiff (D-CA) announcing that he was expanding the scope of the panel's Russia probe, Fox & Friends co-host Brian Kilmeade urged the president to go tit-for-tat and open his own probes into Schiff and other House Democrats.
Schiff announced the increased scrutiny into Trump's affairs by the committee a day after the president used the State of the Union to demand an end into the multiple investigations into his campaign and businesses, claiming they could lead to a crash in the economy. The president has since called the House Intel chief a "political hack" over the investigation and said it "really does hurt the country."
Discussing the expanded investigation Thursday morning with Fox News senior judicial analyst Judge Andrew Napolitano, the Fox & Friends crew wanted to know the difference between House investigations and Special Counsel Robert Mueller's probe. After Judge Nap said "Congress can investigate whatever it wants and literally engage in a witch hunt," a light went off over Kilmeade's head.
"Why not investigate Adam Schiff? Why not investigate [Rep.] Maxine Waters?" Kilmeade asked, causing co-host Ainsley Earhardt to excitedly respond "they could, couldn't they?"
"How did they become rich?" Kilmeade continued. "Why not investigate them? It could be no reason."
Napolitano explained to the Trump-supporting Fox host that Democrats control the House and it is unlikely that they're going to investigate their own. With the knowledge that the president not only watches F&F religiously but takes his daily cues from them, Kilmeade wondered aloud if the president has his own attorney and why he doesn't "just run a private investigation onto Adam Schiff."
We anxiously await the next insider White House report indicating that the president inquired into running his own investigation into Schiff and Waters based on Fox & Friends.
Watch the clip above, via Fox News.