Hannity Issues Correction After Falsely Accusing Cory Booker Of Being Silent On Fairfax Allegations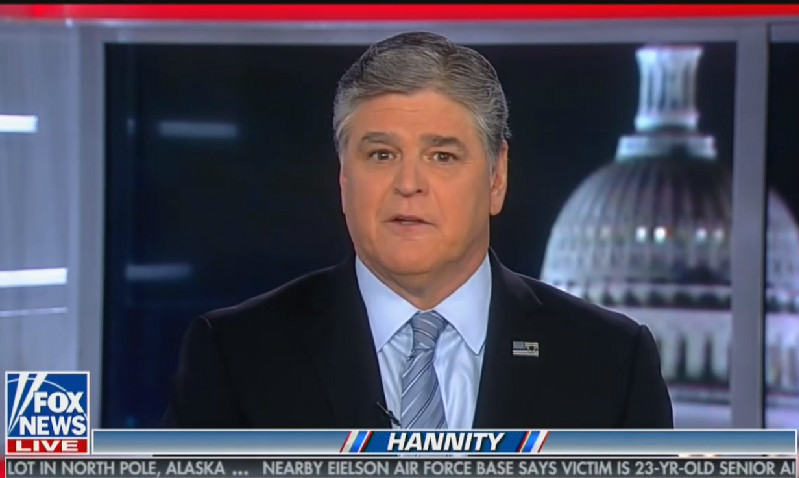 At the end of his program Wednesday night, Fox News star Sean Hannity backtracked and issued a correction after falsely accusing Sen. Cory Booker (D-NJ) of remaining silent on the graphic sexual assault allegation against embattled Virginia Lt. Gov. Justin Fairfax.
With Vanessa Tyson coming forward to issue a statement on her encounter with Fairfax in 2004, claiming that the Virginia Democrat forced her to engage in oral sex, Hannity spent much of his Wednesday night opening monologue chastising prominent Democrats for not standing with the victim and ignoring the allegation.
"Where's Kamala Harris tonight? Where is 'Spartacus' Cory Booker? Where is Elizabeth Warren?" Hannity bellowed. "Do they believe this accuser? Do they stand with all survivors of sexual abuse or only when it's made against a Republican or a conservative? Is it just about politics, not about the cause?"
Only one little problem — hours earlier, Booker had spoken out on the issue. Per CNN's Manu Raju, the New Jersey lawmaker and presidential hopeful said "it takes tremendous courage for someone to come forward" and the allegation is "deeply disturbing."
Booker said allegation against Virginia's Lt Gov. Fairfax is "deeply, deeply disturbing," and the accuser should be commended for coming forward.

"I have not read the allegations but it takes tremendous courage for someone to come forward in the way that she did."

— Manu Raju (@mkraju) February 6, 2019
Cory Booker added: "This is a deeply disturbing allegation that should be thoroughly investigated."

— Manu Raju (@mkraju) February 6, 2019
To Hannity's credit, at the end of his program, he pointed out that he accused "Spartacus Booker" of being silent on the Fairfax sexual assault allegations but "early this evening, Spartacus spoke out to CNN." Reading off Booker's quote to Raju, the Fox primetime star wondered aloud where Sens. Harris and Warren were before applauding Booker: "Good for him."
Meanwhile, over on Hannity's lead-in program, Tucker Carlson Tonight, the eponymous host devoted several minutes to tearing Booker a new one and labeling him a hypocrite for supposedly dismissing the allegations as "unimportant."
Tucker takes Cory Booker to task for supposedly dismissing Fairfax accuser Vanessa Tyson "completely" while painting him as a hypocrite over Kavanaugh.

Today, Booker said it took "tremendous courage" for Tyson to come forward, calling the allegation "deeply disturbing" pic.twitter.com/F2nzSaB2KK

— Justin Baragona (@justinbaragona) February 7, 2019
Unlike Hannity, Carlson did no correction or clarification during his program. Will he address this later? I guess we'll see.
Watch the clip above, via Fox News.