Former Virginia Congressman Backs Northam: Give Him A 'Chance To Prove Himself'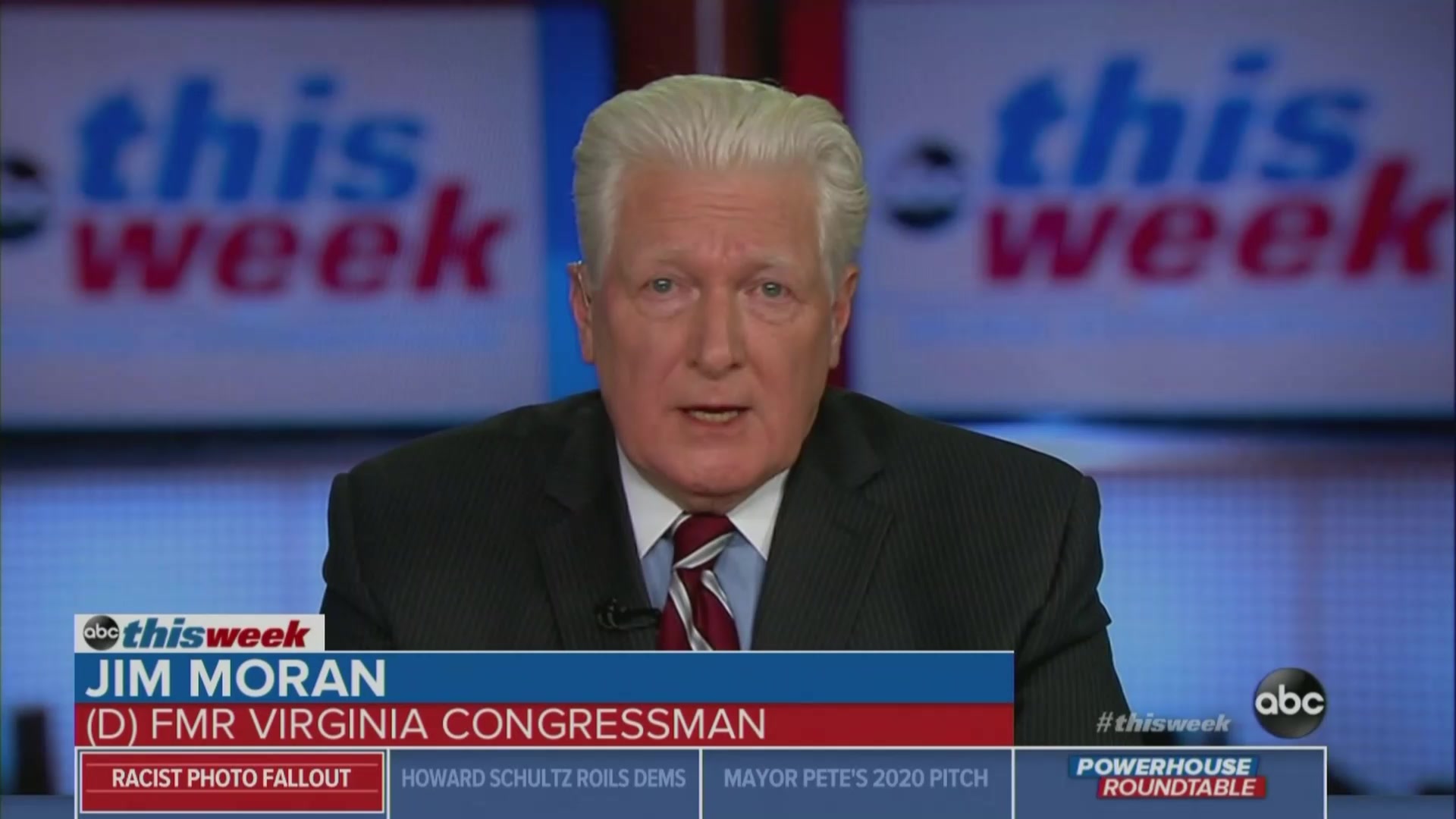 Apparently, embattled Virginia Governor Ralph Northam still has some allies left in the Democratic Party.
With Democrats calling for Northam's resignation after a racist photo from his medical school yearbook surfaced last week and those voices getting even louder following the governor's disastrous Saturday afternoon press conference, one of Northam's few public allies took to the Sunday shows to defend the moonwalking specialist.
Appearing on ABC's This Week, former Virginia Congressman Jim Moran (D) said he thought it was the "right thing to do" for Northam to ride it out and not resign, saying that he thinks it is a "rush to judgment before we know all of the facts."
After rattling off a list of Northam's achievements as governor that he feels have helped African-Americans, Moran said that even if the worst case scenario is true" regarding the photo, Northam will still "have the highest motivation possible to bring us further away from this horrible past of racism and bring us toward more racial justice."
Host George Stephanopoulos pointed out that this case would be much stronger if Northam himself was making it himself. He added that even if the photo turned out to not be of Northam, the governor still admitted to appearing in blackface in the past and never talked about it in public before.
Moran responded by saying the governor is "still learning" but shouldn't be judged solely on the basis of his past mistakes, all while declaring that Northam could be "just the kind of person who can build those bridges to a better future."
The interview concluded with Stephanopoulos noting that the entire Democratic caucus has come out and said Northam needs to resign, wondering aloud how he could possibly govern in a situation like that.
"Well, I think that's up to him. I do think that he has the capacity to do that, to show resilience and strength and to prove himself," Moran replied. "I don't think these public shamings really get us all that much."
Stating that Lieutenant Governor Justin Fairfax should have the opportunity to build on the progress of a Northam term by becoming governor "on his own merits" and "not by default," Moran ended by saying "I want to give Ralph Northam a chance to prove himself."
Watch the clip above, via ABC News.