Fox's Judge Napolitano Says Roger Stone Arrest Was 'Staged': 'Behavior Of A Police State!'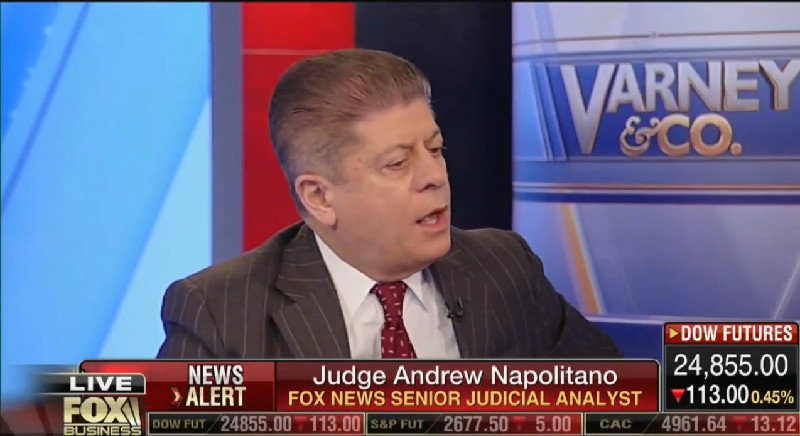 One narrative that has formed on the right over the past few days is that the FBI used too much force when arresting longtime Trump adviser Roger Stone last night. GOP lawmakers have now begun questioning the FBI director over the militarized tactics employed in the early-morning raid and the president himself has said he will "think about" asking the bureau to review its use of force.
With Stone claiming he was treated worse than Osama bin Laden and that the FBI used "Gestapo" tactics when agents in tactical gear knocked on his door early in the morning to arrest him, Fox News senior judicial analyst Judge Andrew Napolitano decried the whole raid as "staged" and "Kafkaesque."
Appearing on Fox Business' Varney and Co., Napolitano discussed his recent FoxNews.com op-ed in which he described the FBI's use of 29 armed agents for the early-morning raid as "an American nightmare." He went on to condemn the show of force by the FBI, stating that they were not there "to arrest a kidnapper of babies or a terrorist" but rather someone charged with lying to Congress. (He conveniently left out the witness tampering and obstruction charges.)
"It's not a violent crime," Napolitano exclaimed. "There's no evidence that he's going to flee, he doesn't have a valid passport, he's not an imminent danger to society."
Host Stuart Varney asked the judge why the government would "put on a show of force like that," causing Napolitano to state that it was either to intimidate Stone into testifying against the president or to make the public believe that the dirty political trickster is a danger to society. The Fox analyst added that the judge in the case obviously doesn't believe Stone is a risk to flee or dangerous since Stone's $250,000 bail doesn't require the defendant to give any money up front.
At the end of the segment, Napolitano revealed that Stone told him personally that the FBI agents were polite and "somewhat apologetic" over the raid before unequivocally stating that the whole arrest was an authoritarian show.
"It was staged," he huffed. "It was staged — that's like the behavior of a police state."
He concluded, "They won't give him a transcript of his alleged lies because the testimony for Congress was classified. This is really Kafkaesque — that he should have to defend against something, the government has the paper that claims contains his lies, he is not allowed to see that paper."
The right suddenly being very concerned over law enforcement tactics and use of force has caused some to roll their eyes. Splinter's Samantha Grasso wrote that "Trump's feigned concern for the FBI's tactics is rich considering that the Department of Justice, under former Attorney General Jeff Sessions, ended a federal police reform program that addressed abusive policing and police-community relations in local police departments." Additionally, before Sessions was booted from DOJ, "he signed a memo that significantly restricted the department's ability to use court-ordered agreements to investigate civil rights violations by and reform police departments."
"Local police departments might have far fewer federal obligations preventing them from abusing their powers, but at least we can rest easy knowing that after Stone's arrest, white men may never wake up to the FBI asking them to open the door ever again," Grasso noted.
Watch the clip above, via Fox Business.