Pro-Trump Radio Host Asks 'Is Ruth Bader Ginsburg Even Alive?,' Invokes 'Weekend At Bernie's'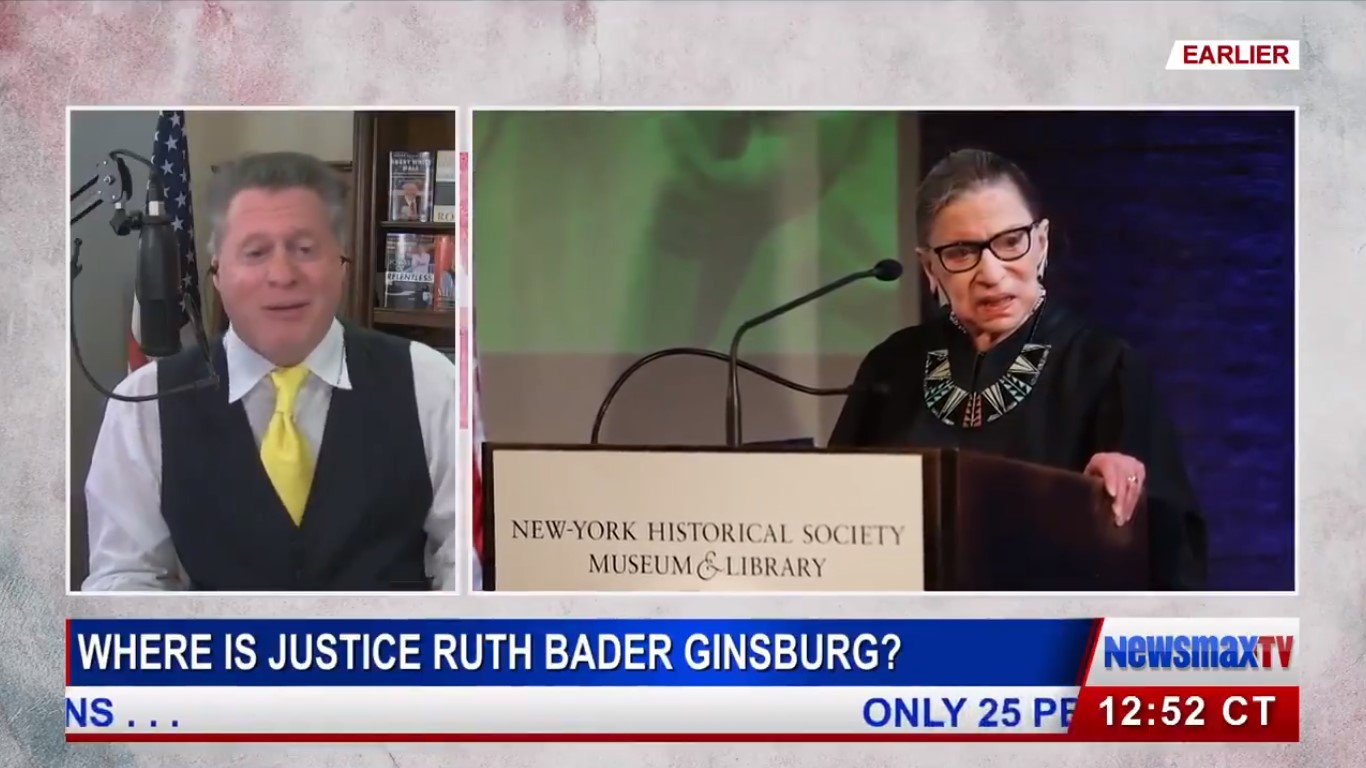 A pro-Trump conspiracy theorist who has appeared on rally stages with the president told his radio audience Tuesday that Democrats may be hiding the fact that Supreme Court Justice Ruth Bader Ginsburg is dead by invoking the '80s comedy Weekend at Bernie's.
With the 85-year-old Ginsburg still working from home and missing oral arguments for the first time in 25 years following surgery to remove cancerous nodules from her lung, right-wing radio host Wayne Allyn Root wondered aloud where she is.
"People call their grandmother 'bubby' — Weekend at Bubby's," Root said Tuesday. "Remember Weekend at Bernie's where he was dead and they propped him up for an entire weekend to try to make a business deal go through? Is Ruth Bader Ginsburg even alive? Is she there? I don't know!"
He continued, "Weekend at Bubby's. I don't know. What happened to her? My guess is that she's very ill. She's probably still alive but hopefully, they can't cover up the death of a Supreme Court justice. But certainly, she's very ill. She's probably laying in her death bed, cannot ever get involved in the Supreme Court again."
Disgusting. pic.twitter.com/6cWvXU44EH

— Timothy Burke (@bubbaprog) January 30, 2019
Root went on to say that the Democrats are just trying to "run out the clock" and hoping to keep her alive and keep her health status secret through a period of time where it can be claimed it's too close to the 2020 presidential election to replace her on the bench.
This isn't the first time that Root has just tossed out baseless and conspiratorial speculation on the air. Back in November, cited the cancellation of Murphy Brown as proof that the left stole the midterm elections, claiming Democrats made up votes in close Congressional races.
Root's conspiratorial claim that RBG may be dead comes on the heels of Fox News erroneously airing a graphic announcing Ginsburg's death. The network apologized for the faux pas, blaming it on "a technical error that emanated from the graphics team."