MSNBC's Ari Melber On Shutdown Deal: We Started With 'A Wall, We Ended With A Giant Cave'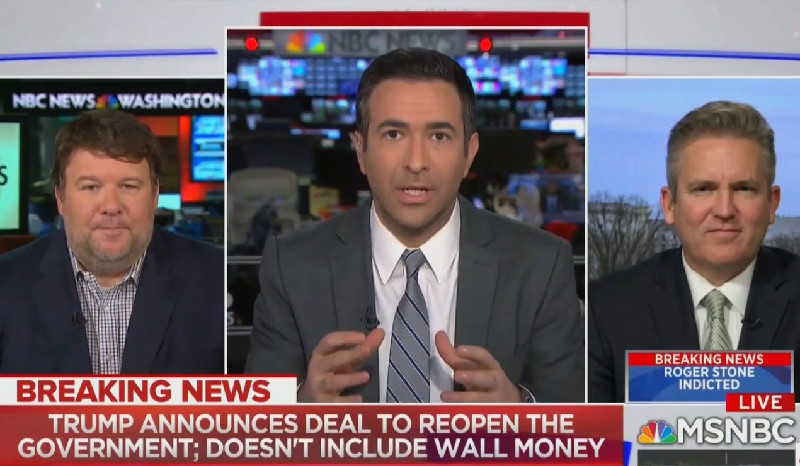 No matter how the president tries to spin today's short-term deal that re-opens the government following a 35-day shutdown over his demand for border wall funding, it is apparent to everybody that he caved to Democrats and House Speaker Nancy Pelosi, as the agreement doesn't contain any wall money. And shortly after the president wrapped up his Rose Garden speech announcing the end of the government shutdown, MSNBC's Ari Melber came up with a perfect analogy to describe the national political journey over these past few weeks.
Highlighting the reaction from the far-right to the president's capitulation, Melber quoted conservative provocateur and immigration hardliner Ann Coulter calling Trump "the biggest wimp to serve as president" for ending the shutdown. He then turned to NBC News political reporter Jonathan Allen for reaction to Coulter's burn of Trump, who said the president "promised a wall and he got a legislative death trap."
After Allen noted that it was extremely unlikely that Trump will get his wall from Congress now as Pelosi holds all the cards, Melber turned to The Hill editor-in-chief Bob Cusack and delivered this bon mot.
"Bob, to get into the map and sort of geographic vibes of all of this, we started with talk about a wall, we ended with a giant cave," the MSNBC host said.
Cusack agreed, adding that this was a "devastating defeat" for Trump, especially since he said all along that he wasn't going to cave to the Democrats. "I thought he would go in the direction of declaring a national emergency, but this doesn't work with independents," he added.
Meanwhile, Melber was so enamored with his new line that he tweeted out a version of it shortly after.
From a wall to a cave.

— Ari Melber (@AriMelber) January 25, 2019
Watch the clip above, via MSNBC.