Hannity: Did Mueller's Office 'Tip Off Their Favorite Fake News Network' On Roger Stone's Arrest?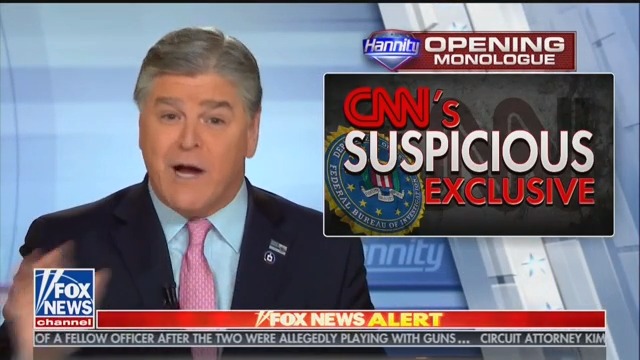 Shortly after longtime Trump adviser Roger Stone was arrested by FBI agents on multiple charges from Special Counsel Robert Mueller, right-wing media jumped all over a baseless conspiracy that someone in Mueller's office tipped off CNN about the raid so the network could be on hand to get live coverage of the arrest. Therefore, it made sense that Fox News' Sean Hannity would get in on the action Friday night, even while the theory had been thoroughly debunked by the time he hit the air.
While describing Stone's arrest as on overreach by the anti-Trump Deep State and another example of the two-tiered justice system, the primetime Fox News host and White House shadow chief of staff took aim CNN and claimed they were in cahoots with the special counsel.
"Naturally fake news CNN they were there," Hannity declared during his show's opening monologue. "They captured the whole thing. Wow, how did they know the exact timing of this?"
He continued, "Somehow the networks fake news so-called journalists knew exactly when and where the raid would go down and the time it would happen. Well, couldn't be, could it? Did one of, maybe, somebody in Mueller's office, maybe one of the partisan investigators, I don't know, did they tip off their favorite fake news network."
Hannity then played a clip of CNN producer David Shortell explaining how they used Journalism 101 to connect the dots and figure there was a good chance that the Mueller investigation was getting ready to arrest Stone. See, CNN reporters had noticed that there was unusual activity in the Mueller grand jury on Thursday, indicating the investigation may be making a significant move. Add in the fact that Stone had been openly worrying for months that he could be indicted, and you get a CNN crew staking out Stone's house in hopes of a scoop.
"Maybe another investigation into more leaking the details of an ongoing investigation?" Hannity pondered. "By the way that's a serious crime. I wonder if these leakers, are they ever going to face justice?"
The Trump confidant went on to complain that the justice system is stacked against anyone associated with the president, adding that if you're a Trump ally you'll "get your door kicked down in the middle of the night hauled away in handcuffs, all while CNN films it all."
Friday's right-wing outrage over this baseless theory was sparked by an early morning tweet by ex-Fox News host Greta Van Susteren, who wrote that the "FBI obviously tipped off CNN" and that it was "curious why Mueller's office tipped off CNN instead of trying to quietly arrest Stone." Far-right outlets like InfoWars and Gateway Pundit ran with her speculation and Drudge Report amplified it. This, of course, eventually led to the president pushing the conspiracy on Twitter.
Greatest Witch Hunt in the History of our Country! NO COLLUSION! Border Coyotes, Drug Dealers and Human Traffickers are treated better. Who alerted CNN to be there?

— Donald J. Trump (@realDonaldTrump) January 25, 2019
Meanwhile, Van Susteren herself issued a correction on Twitter later in the morning, stating that she was "wrong to think CNN acted on a tip" and that it appeared they "acted on a hunch after putting some clues together."
I am told – by a good source – that I am wrong to think CNN acted on a tip and hence was at Roger Stone's today…I assume thus that what is right is that it was fortuitous…that CNN acted on a hunch after putting some clues together (including activity at the grand jury)…

— Greta Van Susteren (@greta) January 25, 2019
Of course, by then, it was all too late, as the damage had already been done.
Watch the clip above, via CNN.