Dan Bongino On Roger Stone: People Lie To The FBI All The Time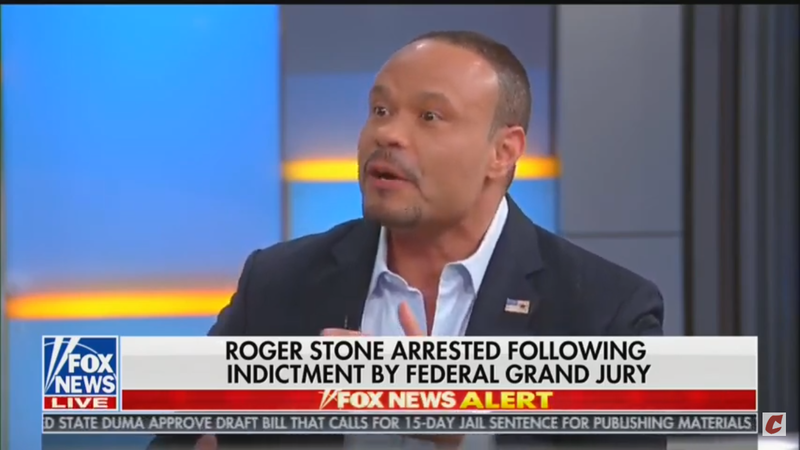 Fox & Friends struggled to cover the news of Roger Stone's arrest Friday morning. The long-time Trump associate was arrested on seven counts, including witness tampering, obstruction and lying. While the Fox News hosts were eager to point out that this did not prove any Russian collusion, they tried hard not to defend Stone directly.
The Fox & Friends hosts spoke to Dan Bongino, who often appears to criticize Robert Mueller's probe and defend President Donald Trump from accusations of collusion. Bongino once again complained that the Mueller probe was based on the unverified Steele Dossier, despite reporting that parts of the dossier have effectively been proven by the investigation.
Bongino repeatedly referred to Stone's alleged actions as 'process crimes' and even suggested that they had occurred as a result of the investigation. However, when he was asked to explain why Stone would lie and tamper with witnesses if he was innocent, Bongino found himself in an awkward position.
"Again, I think it's crystal clear. It's never a good idea to lie. I just want to say that," Bongino said. "I think that should be point stipulated. But having said that, I'm giving you as much as an unbiased opinion as I can. As a federal agent, former federal agent, people lie all the time. They panic. They don't know what the FBI has. A lot of times they don't know what they may have done wrong."
"Someone said to me once in a case, 'When you read someone's emails on a criminal case you always know for than they do because most of the time they don't remember what they wrote'. You don't know. I'm not apologizing for it. I want to be crystal clear: do not lie to the FBI. People do it for all kinds of reasons. Sometimes they don't know what they may have done wrong because they don't remember. And they panic, they try to cover it up."
Bongino, who frequently talks about his experience in law enforcement, found himself defending Stone while also claiming not to defend him. If the allegations against Stone are true, regardless of whether there was Russian collusion or not, Bongino's defense is unlikely to help him.
Watch the video above, via Fox News.