CNN's Jim Acosta On End Of Shutdown: 'One Of The Biggest Tactical Defeats For The President We've Seen'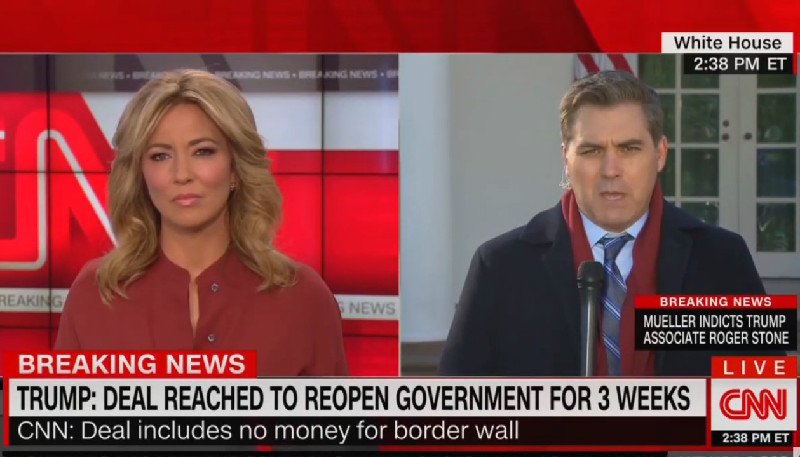 After 35 days, President Donald Trump announced a deal had been reached to re-open the federal government for three weeks while Democrats and Republicans negotiated over the president's demand for a wall along the southwestern border. The capitulation by the president came just hours after several airports experienced delays and ground stops due to a shortage of air traffic controllers, who called in sick as they continued to work without pay.
Immediately after the president's Rose Garden speech announcing the end of the shutdown, CNN chief White House correspondent noted that there was no way for the president or his supporters to spin the fact that he had caved to Democrats and Speaker of the House Nancy Pelosi.
"This was a big cave," Acosta said this afternoon. "I think this is one of the biggest tactical defeats for the president we've seen in his political life. He created this box canyon for himself."
After highlighting that the president likely was watching television this morning and saw the real-life impact the shutdown was having on the nation's aviation system, Acosta noted that Trump did say he'd be prepared to shut down the government again in three weeks if he doesn't get his wall.
"He just can't quit this wall and I think that is why you're going to see very possibly the next three weeks this country right back where we have been for the last 35 days which is perhaps in the middle of a government shutdown because the president can't seem to get his way on the wall," the CNN reporter stated.
Acosta went on to describe the scene and Trump's remarks, noting that Trump's aides and advisers applauded the president for ending the shutdown he created and highlighting the fact that Trump believes federal workers were getting along just fine without being paid for over a month.
Throughout the shutdown, the president's approval ratings have plunged as the majority of Americans have placed the blame solely on him and Republicans. A Washington Post/ABC News poll released Friday morning revealed that only 37 percent of Americans approved of the job he was doing and 53 percent felt Trump was to blame for the shutdown.
Watch the clip above, via CNN.