Watch: Fox & Friends Guest Outraged By Democrat's Joke About Banning MAGA Hats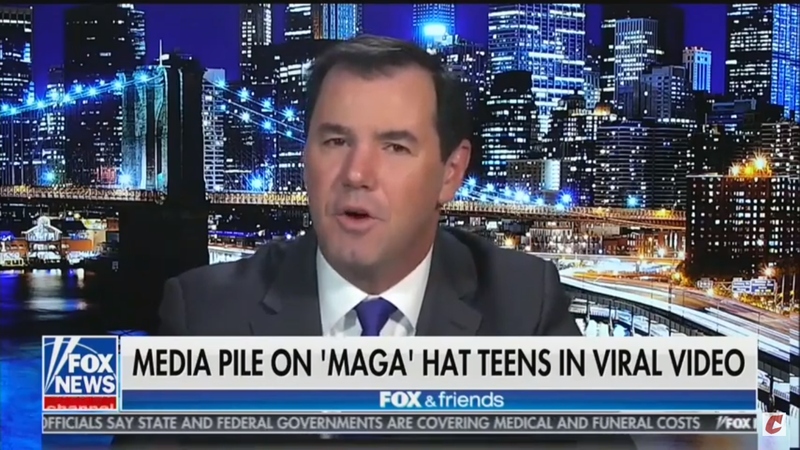 Fox & Friends devoted time Monday morning to defending the MAGA-hat wearing teenager who has been accused of mocking a Native American Vietnam veteran. The Fox News show's hosts repeatedly argued that the media had gotten the story wrong, claiming new footage proved the initial reports were mistaken.
In one segment on the topic, a columnist for The Hill , Joe Concha, launched a strong attack against the media, with the exception of Fox News, and expressed outrage about a tweet from Democratic Representative John Yarmuth. Yarmuth tweeted: "I am calling for a total and complete shutdown of teenagers wearing MAGA hats until we can figure out what is going on. They seem to be poisoning young minds."
This was an obvious parody of President Donald Trump's infamous statement calling for a ban on Muslims entering the US, but many conservatives on Twitter and in the media, apparently including Concha, didn't understand this or refused to accept it.
"I mentioned it before that the Chairman of the House Budget Committee, a Democrat, is calling for banning these hats," Concha said. "Could you imagine a world –  just to close your eyes for a moment and picture President Trump saying, 'You know what, I'm calling for a ban on Hope and Change and I'm With Her t-shirts.'"
"We always hear about authoritarians in the White House," he said. "Gee, I'm seeing that a very high ranking Democrat is calling for banning hats? Where are we? Is this the USA? Where we are telling people what they can and cannot wear? It's not like it's provocative or anything. It's a campaign slogan. He needs to apologize, guys. Whenever he does an interview I hope is he taken to account the same way a Republican would in that situation he called for such an authoritarian measure."
Fox & Friends host Ainsley Earhardt pointed out that Yarmuth had issued a clarification, explaining that his original tweet was a joke. But this wasn't good enough for Concha.
"The tweet is still up, Ainsley," Concha said, perhaps unaware of the later tweets contextualizing it. Yarmuth even tweeted Donald Trump's original quote to explain his attempt at satire.
The story about Yarmuth's tweet appeared in a Breitbart article on Sunday. The article has not been amended to include Yarmuth's later tweets, and no effort was made to link Yarmuth's comment to Trump's Muslim ban quote, despite the clear similarity in language. Breitbart has not issued any new reporting on Yarmuth's comments as of Monday morning.
The thrust of Fox & Friends' coverage of the incident Monday morning was that the media had rushed to judgement and that new footage showed that Nathan Phillips had approached the boys wearing MAGA hats. This is only partially true. While footage clearly shows a group of black religious activists – variously referred to as Black Israelites – shouting abuse at the Catholic schoolboys, Phillips was not part of that group and according to his own account, he wanted to defuse a tense situation. The boy in the video, Nick Sandmann, has made the same claim.
Indian Country Today, a news site covering Indigenous issues, wrote a detailed breakdown of the incident with extensive videos, but controversy continues to swirl around the event. One thing is clear, however: Congressman John Yarmuth is not seriously interested in banning MAGA hats.
Watch the video above, via Fox News.