Chuck Rosenberg Tells Maddow That 'Core' Of BuzzFeed's Cohen Story 'Is Accurate'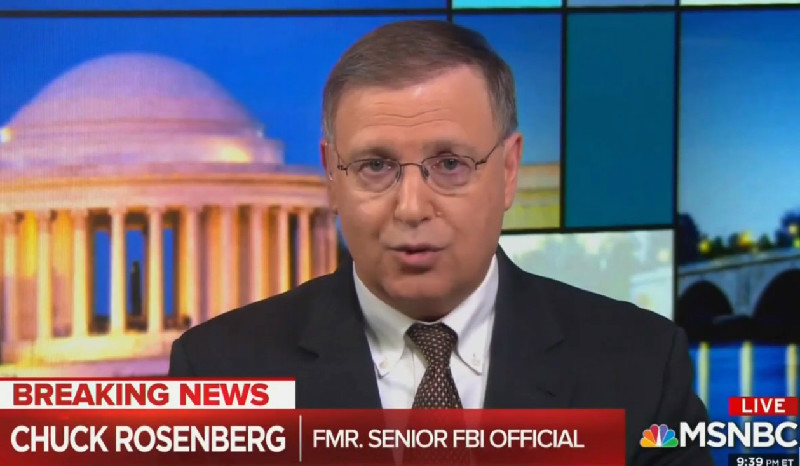 An insane news day got even crazier when Special Counsel Robert Mueller made a rare public comment Friday night to dispute portions of the blockbuster BuzzFeed report that claims President Donald Trump directed Michael Cohen to lie to Congress about his involvement in the Moscow Trump Tower project. As one would expect, Mueller refuting parts of a news story that implicated the president in impeachable offenses led to cries of FAKE NEWS from the MAGAsphere and conservative media (and much of the mainstream press).
However, one for senior FBI official says not so fast, stating that the special counsel's remarks didn't necessarily blow up the core of the BuzzFeed story.
Appearing on MSNBC's The Rachel Maddow Show, former acting Drug Enforcement Administration head and Chief of Staff to the Director of the FBI Chuck Rosenberg told host Rachel Maddow that all one needs to do is look at Mueller's sentencing memorandum regarding Cohen lying to Congress to see that there's a lot of truth in the BuzzFeed story.
"The information provided by Cohen about the Moscow project, in these proffer sessions, is consistent with and corroborated by other information obtained in the course of the special counsel office's investigation," Rosenberg said, reading off Mueller's sentencing memo. "That's Mueller's own words, right. Saying what Cohen said about the Moscow project, the lies to Congress, others being involved, the fact that the Mueller team has corroborating information in their possession comes right from Mueller himself. I think that's what really matters here."
Maddow noted that meant that Mueller had evidence that was Cohen's testimony was corroborated by other evidence, asking why the special counsel didn't Mueller implicate others when Cohen pleaded guilty to lying to Congress. "Would you expect that to have turned up in the charging documents that day in court when Cohen pled?: Maddow added.
"No, not necessarily," Rosenberg said. "Because you want to keep some of your powder dry. Laying the predicate, as you said earlier, is precisely I think what the Mueller team is doing here. They want to use Michael Cohen or any — look, generically, you have a defendant plead guilty to conduct he committed when you want to use that defendant against others with the same thing."
He continued, "You don't want to sort of lay all your cards on the table as a prosecutor, because you're still investigating that thing that conduct, the others who were involved in it. What the Mueller team did made sense to me. The way they described it really in some ways buttresses the core of the BuzzFeed story. Now, obviously, the Mueller team is pushing back on aspects of the BuzzFeed story. I think in the main, what you can glean from their sentencing memorandum, the core of BuzzFeed story is accurate."
Meanwhile, despite Mueller's claim that parts of the story are "not accurate," BuzzFeed's reporters and editor-in-chief stand behind the reporting.
Watch the clip above, via MSNBC.