Harold Ford Jr, Previously Benched By MSNBC, Returns To Cable News Airwaves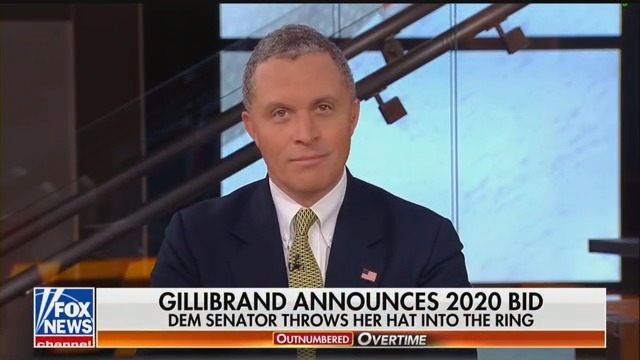 More than a year after MSNBC pulled him as an on-air analyst in the wake of reports that he was fired by Morgan Stanley over misconduct allegations, former Democratic Congressman Harold Ford Jr. appeared on cable news airwaves again as he popped up as a guest commentator on Fox News.
The one-time frequent Morning Joe panelist showed up today on Fox's Outnumbered Overtime to discuss Kirsten Gillibrand's presidential bid with former GOP Rep. Nan Hayworth and anchor Harris Faulkner. Representing the Democratic side in the debate, Ford said that candidates need to present a "compelling economic mission that is positive" and demonstrate that they "can manage a complex government."
Ford's Fox News hit comes on the heels of a Fox News radio appearance with Brian Kilmeade last week. During that segment, he spent roughly 15 minutes talking about the continued government shutdown and New York Mayor Bill de Blasio's plan to offer city residents free healthcare. (Fox News' website also promoted an appearance by Ford on The Ingraham Angle last week, but it looks like it didn't materialize.)
These would appear to be Ford's first major media appearances as a commentator and analyst since being benched by MSNBC over a year ago. On December 7, 2017, the network benched him following a report that he was fired from his job at Morgan Stanley for "conduct inconsistent with our values and in violation of our policies." Per The Hollywood Reporter, a source said at the time that "Ford talked with MSNBC and agreed that it would make sense for him to not go on the air right now," noting that Ford had not been suspended.
Ford, however, would not appear back on air with MSNBC following his benching, despite Morgan Stanley later saying that he wasn't terminated for sexual misconduct and instead "based on corporate policy." At the same time, MSNBC remained quiet about Ford's status with the network, not addressing the matter throughout 2018. The ex-lawmaker, meanwhile, identified his employer as NBC News in a campaign donation in August 2018, and he joined the strategic advisory board of tax consulting services firm alliantgroup last July.
Following Ford's Wednesday Fox News appearance, an MSNBC source told Contemptor that Ford is no longer under contract with the network. We also reached out to a representative of Ford's to for comment.
Per THR's Jeremy Barr, a rep for Ford noted that the former Tennessee congressman is "not a Fox News contributor or anything like that."
A rep for Harold Ford says he's not a Fox News contributor or anything like that https://t.co/59XuUrIx1u

— Jeremy Barr (@jeremymbarr) January 16, 2019
With Ford no longer under contract with MSNBC, it would appear he is free to appear as a guest on other cable news channels as he pleases. With political news about to be consumed by the 2020 presidential race, it would hardly be surprising if Ford is dipping his toe back in the cable news waters to see if he can potentially get picked up as a commentator elsewhere.