WATCH: Trump Doesn't Deny Being A Russian Agent When Directly Asked By Jeanine Pirro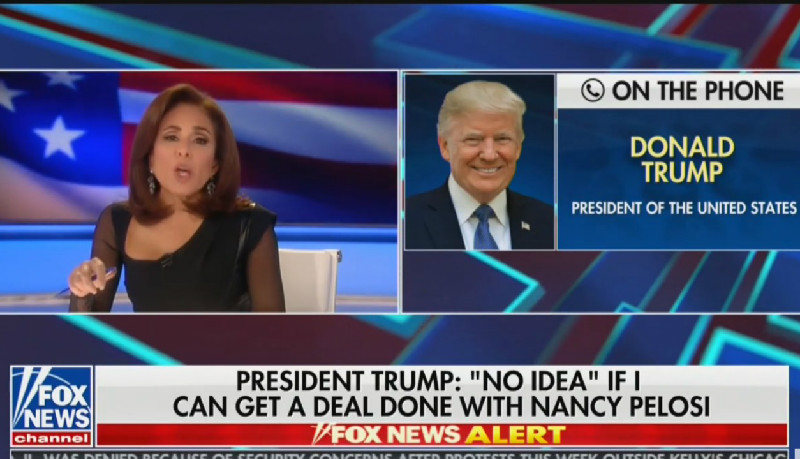 Following reports by the New York Times and Washington Post that revealed the FBI opened a counterintelligence inquiry into President Trump after he fired FBI director James Comey and that he concealed details of his meetings with Russian President Vladimir Putin, Fox News' Jeanine Pirro asked Trump if he had ever worked for Russia.
And for some reason, the president couldn't find a way to say no.
"The New York Times reported that the FBI opened a counterintelligence investigation the day after you fired James Comey in May of '17," Pirro said during Saturday night's broadcast of Justice with Judge Jeanine. "And the investigation was whether you were actively working for Russia or unwittingly. So I'm going to ask you, are you now or have you ever worked for Russia, Mr. President?"
"I think it's the most insulting thing I've ever been asked," the president responded. "I think it's the most insulting article I've ever had written. And if you read the article, you'd see that they found absolutely nothing. But the headline of that article, it's called 'The failing New York Times' for a reason, they've gotten me wrong for three years."
After railing against the Times a little while longer, Trump then pivoted to slamming current and former members of the FBI, including Comey, Andrew McCabe and Peter Strzok. This then turned into the president claiming that he's been tougher on Russia than anybody else" before going full circle and whining about the Times.
"So I think it was a great insult," he told the Fox News host. "And The New York Times is a disaster as a paper. It's a very horrible thing they said, and they've gone so far that people that weren't necessarily believers are now big believers, because they said that was a step too far. They really are a disaster of a newspaper."
Pirro, a passionate loyalist of the president, then moved on to the Post's story, asking the president if he'd release transcripts of his conversations with Putin along with "some other stuff that might involve FISA, Bruce Ohr and the whole lot of them." Trump said he "couldn't care less" and that he's "not keeping anything under wraps."
Watch the clip above, via Fox News.