Did Shep Smith Just Take A Swing At His Fox News Colleagues For Bad-Mouthing New York?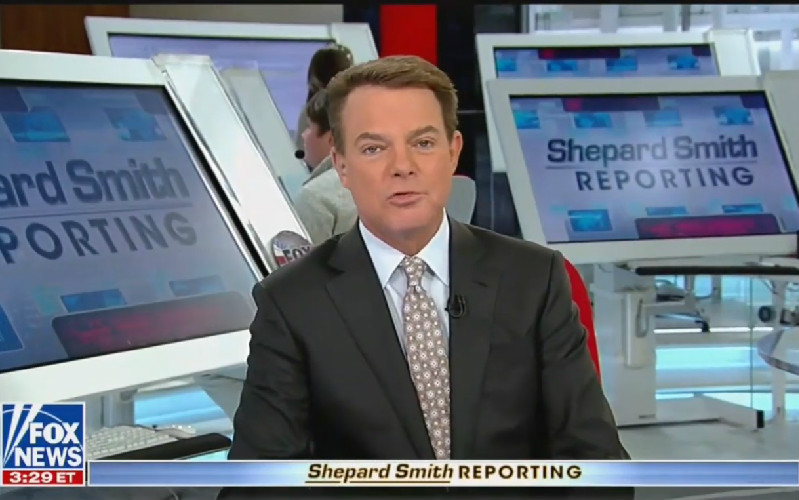 After Fox News panel show Outnumbered spent two days claiming New York City has devolved into a filthy crime-ridden hellhole under Mayor Bill de Blasio's watch, Fox News anchor Shepard Smith seemingly took a shot at his colleagues by highlighting the low crime rates and overall cleanliness of the nation's largest city.
During Friday's program, co-host Melissa Francis complained that "the quality of life has gone down the drain" due to the progressive mayor's policies, adding that the "streets are filthy" and "more dangerous than ever" while claiming the "squeegee men are back."
This came on the heels of Thursday's show which featured the panel bemoaning de Blasio's announcement to provide health care to all city residents and paid vacation to workers. They claimed it would be too onerous for the taxpayers and that it would cause the city to sink further into despair — offering up anecdotal takes on how the city was suffering with de Blasio at the helm.
On Friday afternoon, just a couple of hours after Outnumbered aired, Smith shoehorned in a ringing endorsement for NYC at the end of a news segment on the ongoing government shutdown.
"Here in New York City, city crime rates, violent crime rates, are the lowest they've been in seven decades," Smith declared. In 2018, New York experienced 289 murders, a small decrease from the already record lows of 2017 and a stark contrast to the 2,000+ murders in 1990.
"The violent crime rate is the lowest of any major city in America. Streets are clean, things are good. Come visit us," he concluded with a knowing smile.
Watch the clip above, via Fox News.
[H/T Mediaite]