Maddow Once Again Dominates Cable News Ratings Wednesday Night, Hannity Finishes Third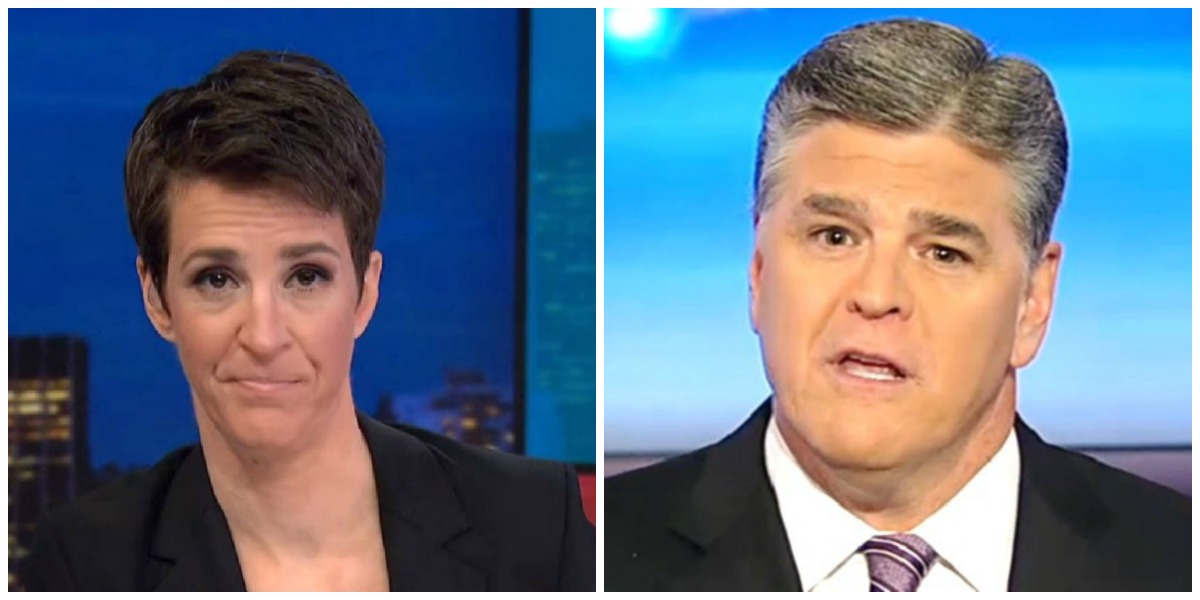 MSNBC's The Rachel Maddow Show was once again the top-rated program in all of cable Wednesday night, a position the progressive-leaning news show has largely occupied these past couple of months. Fox News, however, led cable news across the board in total day and primetime viewership as the president engages in a full-court press to rally support for the border wall.
According to Nielsen, Fox News averaged a robust 2.918 total viewers and 535,000 in the key 25-54 demographic during the primetime 8 PM to 11 PM hours. MSNBC nabbed a demo audience of 497,000 and 2.762 million viewers overall. CNN attracted a total viewership of 1.464 million and 435,000 in the demo.
In the total "sales" day (6 AM – 2 AM), Fox drew 1.860 million viewers overall and 361,000 in the 25-54 metric. CNN captured 279,000 demo viewers and a total audience of 993,000. MSNBC averaged 1.616 million total viewers and 270,000 in the demographic.
Maddow finished first overall in both the demographic (635,000) and total viewership (3.415 million). Maddow's 9 PM competitor, Fox News' Hannity, took third place in total viewers (3.036 million) and the key demo (541,000).
Fox's Tucker Carlson Tonight was the runner-up in both the 25-54 category (573,000) and overall viewership (3.078 million). FNC's The Five took fourth in the demo (512,000) and total viewers (2.833 million).
The most-watched program on CNN was Anderson Cooper 360, which drew a total audience of 1.575 million and 448,000 in the key demo.