Watch: Fox News' David Bossie Blames Nancy Pelosi For Stock Market Fall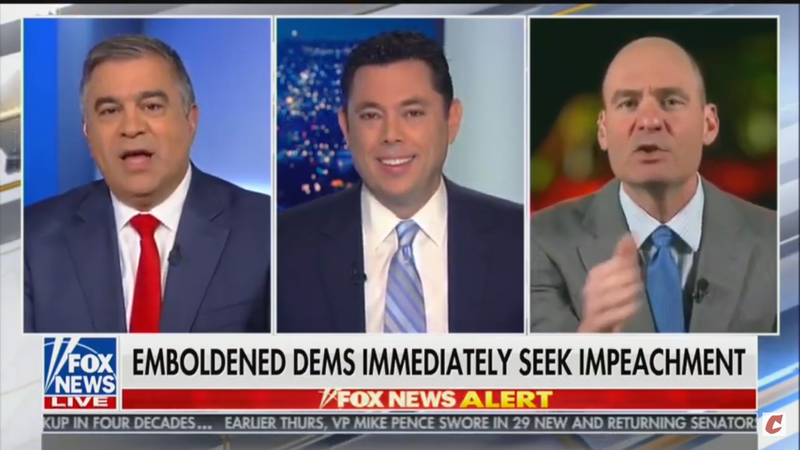 Stock markets experienced sharp declines yesterday, largely based on unexpectedly poor results from tech companies. Apple was forced to issue a rare profit warning and blamed declining sales in China. Apple's problems were connected to President Donald Trump's ongoing trade war with China, but on Fox News, things were different.
On The Ingraham Angle, host Jason Chaffetz (former US Congressman) spoke to Citizens United President and Fox News contributor David Bossie and Chris Hahn, a former aid to Senator Chuck Schumer. Bossie was keen to make the case that Trump and the government shutdown had nothing to do with the struggling stock market.
"You look at the accomplishments of this President," Bossie said. "You look at the economy,  you look at our standing across the world, national security, we are back, OK? This economy – the Trump economy is on fire and it's going to stay like that."
Hahn pointed out that his stock portfolio isn't looking very good, but Bossie refused to accept that Trump's policies were to blame.
"Where were the issues today about Nancy Pelosi taking over the gavel in the House and the Dow dropping 660 points?" Bossie said. "They still want to blame it on President Trump."
Hahn jumped in to explain how the shutdown was responsible for the drop, though this interpretation of events is only partially accurate. Bossie continued to blame Pelosi, despite being on even less solid ground than Hahn.
"It has nothing to do with the shutdown. Come on! They don't even know there's a shutdown" Bossie said. "The markets dropped because Nancy Pelosi took control of the House."
Later in the conversation, as the topic moved to border security and Trump's border wall, Bossie swerved from blaming Democrats for the stock market drop to blaming them for the death of a police officer.
"How many more Kate Steinles do we have to have?" Bossie asked. "How many officers that were murdered on Christmas day? The blood is on the hands of the Democrats in Congress. That's a fact."