Retired 4-Star General John Allen: Trump's 'Not Qualified To Invoke Sacrifice' Of Fallen Troops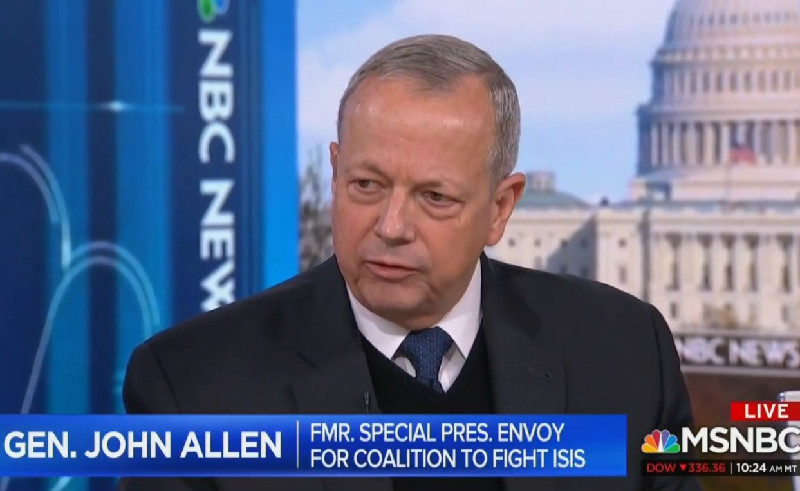 Appearing on MSNBC earlier today, a retired Marine Corps four-star general who was previously the special presidential envoy for the Global Coalition to Counter ISIL strongly reacted to President Donald Trump invoking fallen soldiers to justify his sudden decision to pull all troops out of Syria.
In a minute-long video sent out yesterday afternoon, the president said that the United States has been fighting in Syria for a long time and since he's been president, "we've really stepped it up." He added, "And we have won against ISIS."
Trump went on to say it is time to bring the troops back home before talking about how "saddened" he is to have to write letters to families of soldiers who are killed in action before stating that the fallen from Syria would advocate his decision.
After historic victories against ISIS, it's time to bring our great young people home! pic.twitter.com/xoNjFzQFTp

— Donald J. Trump (@realDonaldTrump) December 19, 2018
"They're up there looking down on us, and there is nobody happier or more proud of their families, to put them in a position where they've done such good for so many people," he declared. "So our boys, our young women, our men, they're all coming back. And they're coming back now. We won. And that's the way we want it. And that is the way they want."
Speaking to General John Allen, MSNBC host Andrea Mitchell noted that Trump was "referring to the fallen men and women, fallen soldiers and the troops for whom he has to write letters at the beginning of this video, and invoking them as praising this the decision," asking the current Brookings Institution president how that made him feel.
"He is not qualified to invoke the sacrifice or the memory of those magnificent troops who gave the last full measure of their lives to the cause of the United States," Allen responded. "We should treasure their memories and not politicize their memories, and he is not qualified to make that statement."
The president has received widespread criticism over for the troop withdrawal, specifically from members of his own party. Much of the condemnation has centered on his "Mission Accomplished"-level declaration of ISIS's eradication, the fact that he's going against the advice of the Pentagon and his advisers, and the belief that he's emboldening Iran, Russia, and Bashar al-Assad's regime.
Watch the clip above, via MSNBC.