Watch: Judge Napolitano Disproves Fox & Friends' Pro-Trump Talking Points Live On Air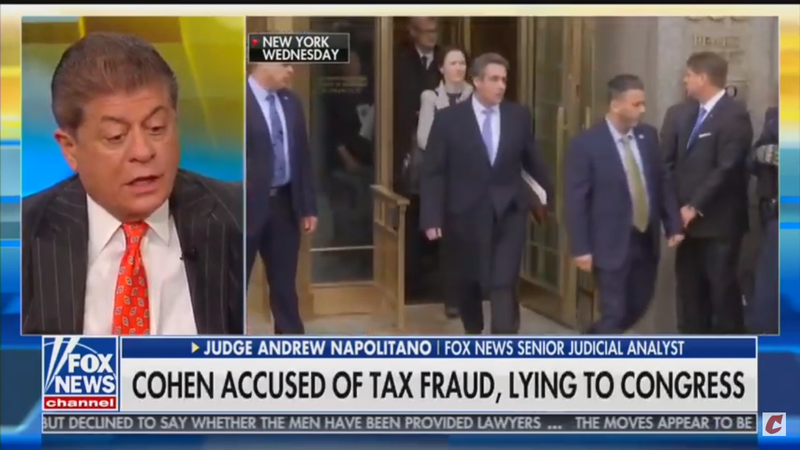 Fox & Friends tried to report on Michael Cohen's sentencing this morning by bringing on their normal legal analyst, Judge Andrew Napolitano. Cohen was sentenced to three years in prison for paying hush money to women President Donald Trump had affairs with. The President was directly implicated in the payments, so Fox & Friends were keen to defend him.
"Judge, Michael Cohen got off pretty easy, three years is pretty good. He has to be happy about that," Brian Kilmeade began but Napolitano quickly replied: " No-one is happy about going to jail but it's a lot less time than the government wanted and a lot less time than we all thought he would get. I have sentenced over 1,000 people in my career and I have heard things defendants say. Sentencing today is essentially a mathematical function. You're checking boxes, you're complying with guidelines. There is some room for deviation and Judge Pauley, the judge in this case, gave Michael Cohen a substantial benefit."
"Co-operation?" Steve Doocy asked.
"Correct," Napolitano said. "He was prosecuted by the special counsel in D.C. They wanted him to get no jail time and he was prosecuted by the U.S. Attorneys here in New York. They wanted him to get four years. Judge Pauley gave him three. But, a very, very telling statement came out of the judge's mouth after he read all the documents and heard all the arguments from the government, prosecutors in D.C., prosecutors in New York, Michael Cohen and his lawyers and that was about the President – the judge finding that the President ordered and paid for Michael Cohen to commit a crime. That is very telling."
"What crime?" Doocy interjected.
"The intentional deception and failure to report campaign payments," Napolitano said slowly.
"Donald Trump has said that that was not a campaign violation because it wasn't involving the campaign. It was a damage control payment," Doocy said.
"Unfortunately the President wasn't in the courtroom," Napolitano said. "And the people who were, the federal prosecutors, who had a statement from David Pecker, the guy that owns the National Enquirer, said it was for the campaign. The prosecutor said it was for the campaign. Michael Cohen said it was for the campaign. The President wasn't there; maybe he should have had lawyers there."
After explaining a little more about campaign finance violations, Brian Kilmeade jumped in with an entirely hypothetical scenario: "Like, for example, Reverend Wright is speaking out, making candidate Obama look bad and someone walks up to Reverend Wright and says 'Hey, can you stop making the senator look bad, he is running for president?' What does it have to do with the campaign? That might influence how I vote."
Napolitano explained that the hypothetical would not be a campaign finance violation, but Kilmeade said: "This is no different. This is a negative story the president went after because he was running for president."
"I understand the President's argument. Unfortunately, the court and the prosecutors who work for the President disagree with him," Napolitano said.
Steve Doocy then tried to compare the hush money payments to former Democratic presidential candidate John Edwards, who allegedly used campaign funds to pay off a woman he had had an affair with.
"John Edwards' case actually hurts the President," Napolitano said. "John Edwards' lawyers made a motion to dismiss the indictment saying it's not a crime. And the judge published an opinion saying why it's a crime. Now, the jury didn't believe the government and believed John Edwards. But the fact of the matter is any scheme to defraud the government by failing to report what must be reported is a crime unless it's an honest mistake, in which case it's not a scheme."
They then moved on to talking about how much of the sentence Cohen will serve and whether he could practice law again.