Seb Gorka: Trump Could Pardon Michael Flynn And 'He'd Make A Great Chief Of Staff'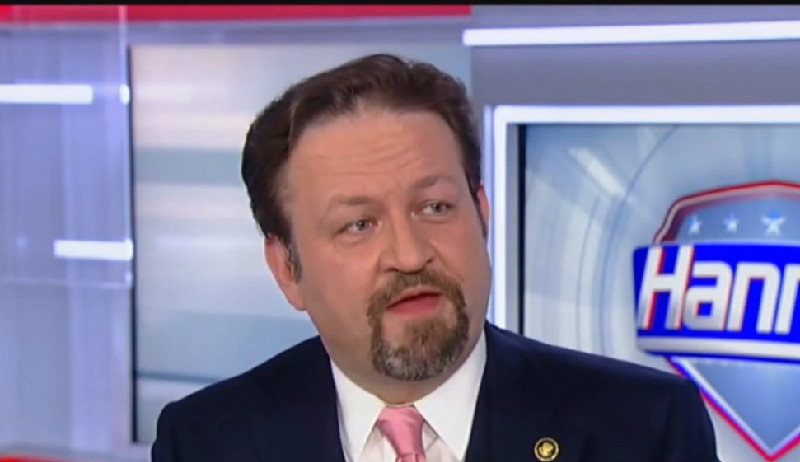 Whenever he's not parking his 4-cylinder Mustang on sidewalks, blocking folks on Twitter, or handing out fake business cards, Fox News national security analyst Sebastian Gorka is making the rounds on Fox's pro-Trump opinion shows delivering MAGA bon mots in his quest to slay the libs.
Appearing on Hannity tonight, the Dragon of Budapest outdid himself.
While other cable news networks were covering former Trump lawyer Michael Cohen getting sentenced to three years in prison and telling the court he did "dirty deeds" for the President of the United States, Sean Hannity brought on Gorka and Congressman-turned-pundit Jason Chaffetz to discuss the "two-tiered justice system" following former National Security Adviser Michael Flynn's request for leniency in his sentencing memo.
In the memo, which followed Special Counsel Robert Mueller's recommendation that Flynn receive no prison time for lying to the FBI due to his cooperation with the probe, Flynn's attorneys suggested the FBI agents that interview Flynn last year tricked him into lying to them. Hannity and crew pointed to the FBI's treatment of Flynn compared to Hillary Clinton and other Democrats as proof that the system is rigged against Trump. Because, you know, DEEP STATE.
At the end of the segment, after Hannity and Chaffetz had roundly complained about the FBI not running round-the-clock investigations into Clinton and the Democratic Party, Hannity let "Dr." Gorka get the last word. And this is what we got:
"The president could pardon General Flynn and he would make a great chief of staff, don't you think?"
Well, there you go.
Hannity laughed and let Gorka know that he "just got the headline at Mediaite," adding it was "well deserved."
Watch the clip above, via Fox News.