Sen. Alan Simpson Tells CNN's Alisyn Camerota To 'Leave People Alone And Go Find Some New Work!'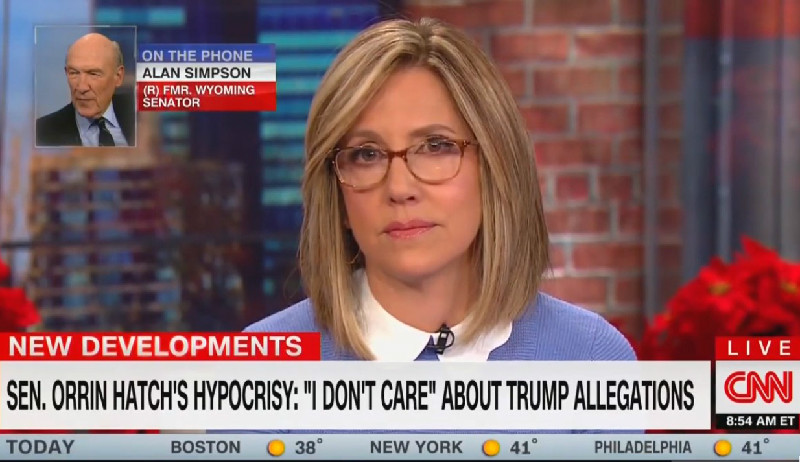 So this was an extremely uncomfortable and awkward interview.
Calling into CNN's New Day this morning to ostensibly talk about the Washington Post op-ed he signed onto with 43 other former senators that warned current Senate members that "we're entering a dangerous period," retired Sen. Alan Simpson (R-WY) ended up going off on co-anchor Alisyn Camerota for asking a question that seemed fairly pertinent.
With the former senators' letter calling on current and future members to join together and defend Special Counsel Robert Mueller's probe, Camerota brought up Sen. Orrin Hatch's saying that he doesn't care about the allegations by federal prosecutors that President Donald Trump committed campaign finance crimes.
"He said I don't care about the revelations that have come from Mueller," Camerota noted. "What is your response to that?"
"Well, I don't want to get into that kind of stuff," a clearly irritated Simpson said. "I can tell you one thing that would solve everything. Now, you want to hear this. Every U.S. Senator who goes to the Judiciary Committee should have a full FBI investigation from birth until they go on — that will take care of a lot of this crap."
A confused Camerota wanted to know how that would take care of it, causing the veteran Wyoming lawmaker to complain about picking "old scabs" as he complained about a recent movie about Gary Hart and noted how he cares "deeply for Joe Biden."
"Picking an old scab," Simpson growled. "Good. Go back and pick an old scab. [HBO movie] Confirmation, go back and look into Professor Hill and Clarence Thomas. Why don't you leave people alone and go find some new work?!"
The flustered CNN host retorted that she thought she was asking him about his Senate colleagues and whether they should be saying things like "I don't care" about the revelations coming from the current investigations surrounding the president.
"That's none of my business," the ex-senator huffed. "You called me to ask me questions about me. I can answer those."
Camerota concluded by telling Simpson that it was her belief that the letter was "don't let party stand above principle," something Simpson agreed with.
Watch the clip above, via CNN.