Florida Cop Who Wore QAnon Patch In Mike Pence Photo Demoted From SWAT Team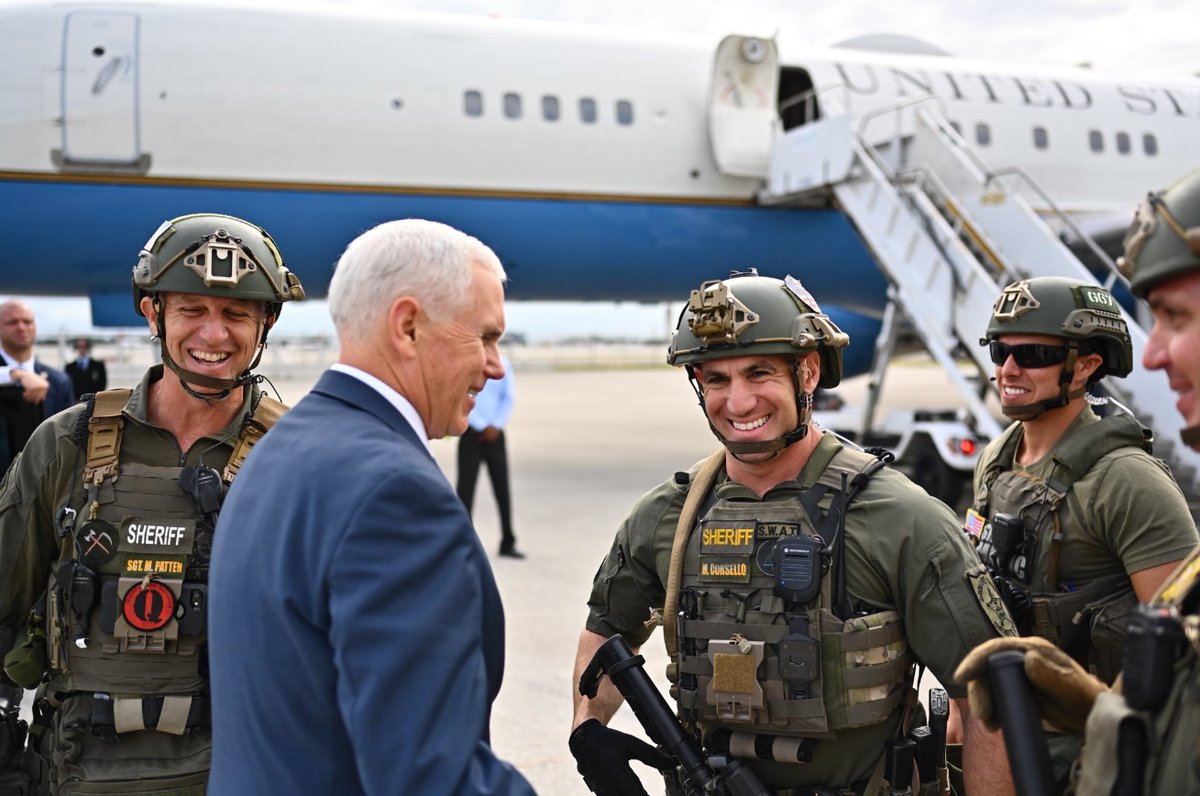 The Broward County Sheriff's SWAT officer who wore a QAnon conspiracy theory patch on his uniform while greeting Vice President Mike Pence during Pence's visit to Florida last week has been demoted from both SWAT and the department's Homeland Security detail, the Miami New Times reports.
In case you missed it, the vice president posed for photos with police officers last Friday at Fort Lauderdale-Hollywood International Airport. As first reported by Right Wing Watch's Jared Holt, one of the officers — Sgt. Matt Patten — was wearing a QAnon patch that is currently for sale at Amazon on his chest.
Today, Mike Pence posted a photo on Twitter with a Flordia law enforcement officer wearing a QAnon patch for sale on Amazon pic.twitter.com/vnOkk1l5Ee

— Jared Holt (@jaredlholt) November 30, 2018
QAnon, of course, is the convoluted and mind-numbingly insane conspiracy theory that claims, among other things, that President Donald Trump and others are involved in a highly secret war to expose a vast cabal of pedophiles, led by high-profile Democrats and celebrities. It would appear that Patten was hoping to use his appearance with the veep to help publicize the cause.
Eventually, Pence and the official VP Twitter account deleted the tweets after the QAnon connection was pointed out, something the sheriff's office cited when issuing its reprimand this week.
"This resulted in negative ramifications on a national platform as a controversy for the Broward Sheriff's Office, the County, the SWAT team, and Sergeant Patten. The controversy also caused the V.P.O.T.U.S. Office Website to delete the image."
The office further stated that Patten embarrassed the department and made it seem politically biased by wearing the patch while meeting Pence.