Longtime Trump Lawyer: Michael Cohen Is 'Weak,' Scared Of Prisoners 'Saying You're Going To Be My Wife'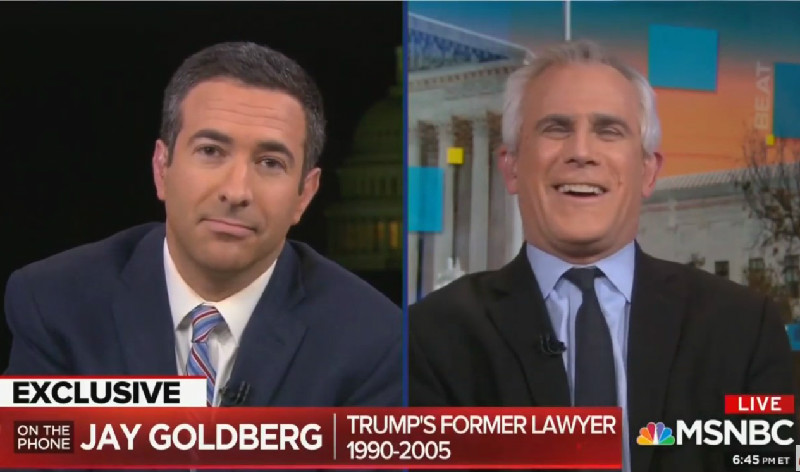 Appearing on MSNBC's The Beat with Ari Melber Thursday, longtime Donald Trump attorney and adviser Jay Goldberg agreed with the president that former Trump lawyer Michael Cohen is "a weak person and not a very smart person."
TRANSCRIPT
---
ARI MELBER (HOST): Let me play it, I'll get your reaction. Here it is.
PRESIDENT DONALD TRUMP (CLIP): He is a weak person and by being weak, unlike other people that you watch, he is a weak person and what he is trying to do is get a reduced sentence. He is a weak person and not a very smart person.
MELBER: Jay, final word, is that any way to talk about your former lawyer?
GOLDBERG: I spoke to him once in the 24 years I represented trump, once. I found him to have — found him to have earmarks of weakness. When you're an experienced trial lawyer, you can size up the person. He would never subject himself to walking down the aisle with people banging their metal cups against bars saying you're going to be my wife. He is a weak person based on information that I have from — I can't go into where the information comes from.
(Melber's guest David Corn stifles laughter; Melber drops his head in disbelief)
MELBER: Mr. Goldberg, I'm going to fit in a break. I appreciate, as I do with all guests, you giving us your views. Thank you tonight. I'm going to fit in a break.
---
Watch the clip above, via MSNBC.