CNN's Scott Jennings And Max Boot Personally Attack Each Other In Off-The-Rails Pundit Fight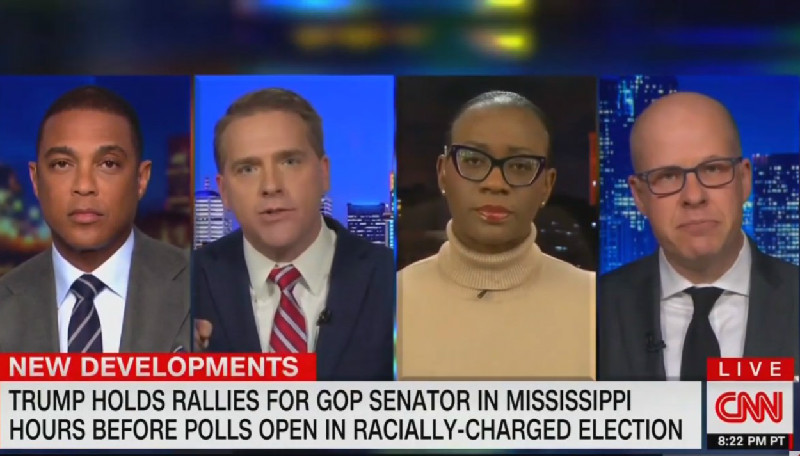 CNN panel fights are nothing new. In fact, it is pretty much their brand as CNN president Jeff Zucker has said the "idea that politics is sport is undeniable, and we understood that and approached it that way." He's also called the over-the-top pro-Trump commentators he's hired over the past couple of years "characters in a drama."
Even with shoutfests being the rule and not the exception at CNN, Monday night's panel discussion featuring CNN contributors Scott Jennings and Max Boot was one for the ages if only because the two men seemed to have some legitimate beef with each other.
The discussion surrounded the Mississippi Senate runoff election that has taken a whole new dimension with incumbent GOP Sen. Cindy Hyde-Smith's making lynching references, applauding Confederate history, and not only attending a "segregation academy" as a teenager but sending her daughter to one years later. So this was definitely set up for a tense situation, what with anchor Don Lemon setting the stage by bringing up his personal experiences with bigotry in the Deep South and Jennings being the one GOP defender on the panel.
Don Lemon describes what it was like being a black teenager in the South and visiting a segregation academy, much like the one Cindy Hyde-Smith attended.

"'Don't get out of that car, n***er! Get back in!' That's the South. Still that way. Don't sleep on it." pic.twitter.com/ZhParrgZXd

— Justin Baragona (@justinbaragona) November 27, 2018
When asked by Lemon if he thought Hyde-Smith was the kind of person he or Mississippians would want to represent the Republican Party, Jennings responded by noting that he believes she will win the race because it is a red state and that this is a "nationalized election." Pushed on whether he was surprised President Trump was supporting Hyde-Smith after her comments, Jennings merely said that "he's a Republican president" and "he wants a Republican senator."
This caused Boot — a Never Trumper who seemingly thinks racism didn't exist within the GOP until Trump became a presidential candidate — to admonish Jennings for boiling down issues surrounding racism and bigotry to a "value-neutral horse-race analysis." Jennings wasn't having it and went right back at Boot.
"Hey, Max, listen, brother, I don't answer to you," Jennings exclaimed. "We come on these shows and you jump all over me! I don't answer to you, Max Boot. You left the Republican Party. I don't answer to you!"
After Boot asked Jennings if he could finish his comment while telling him it wasn't his show, the conservative commentator came back with this: "You interrupted me. I'm going to interrupt you back. Jerk."
Lemon would try to play moderator between the two and ask Jennings not to call anyone names, but that didn't do much good. The segment continued to grow more heated, with progressive activist Nina Turner getting involved in the action and saying "white America needs to stand up and call this out."
Eventually, Lemon just wrapped the whole thing up with Boot and Jennings sniping at each other to the bitter end, revealing that there is something personal between the two CNN colleagues.
Watch the clip above, via CNN.