Alan Dershowitz: Report From Mueller 'Is Going To Be Devastating' To Trump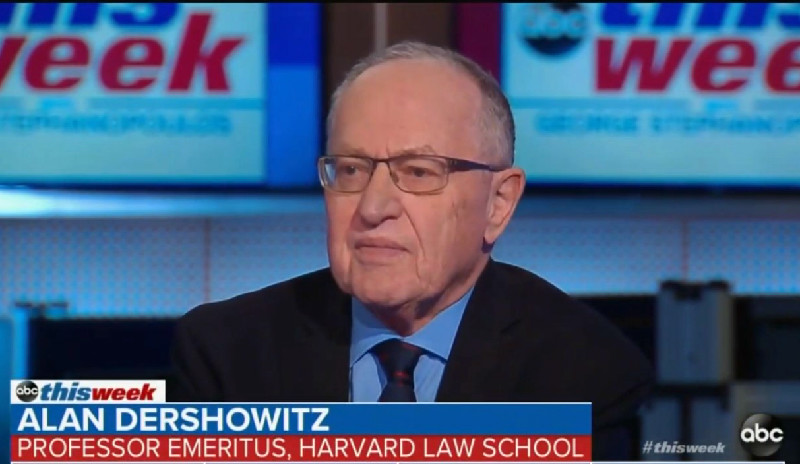 Appearing on ABC News' This Week, famed attorney and vocal Mueller probe critic Alan Dershowitz explained that the much-anticipated report from Special Counsel Robert Mueller will not bring good news for President Donald Trump.
Paired off with ABC News legal analyst and Mediaite founder Dan Abrams, Dershowitz claimed that far-right conspiracy theorist Jerome Corsi isn't going to be used as a witness by the Mueller investigation because his "credibility is shot." (Corsi is reportedly working on a plea agreement with the special counsel.)
After Dershowitz reiterated that Corsi won't be used as a witness because Mueller is too smart to use a birther, host George Stephanopoulos noted that we are getting a lot of information surrounding former Trump associates working with the special counsel, including Michale Cohen and Paul Manafort.
"I think the report is going to be devastating to the president," Dersh stated. "I know the president's team is working on a response to the report."
He added, "At some point when the report is made public, that's a very hard question considering the new attorney general who has the authority to decide when and under what circumstance to make it public, it will be made public with a response alongside. The president will say it's political. There's their account and our account."
Stephanopoulos replied that it was "something" for Dershowitz to say the report will be devastating to Trump, causing the former Harvard law professor to clarify that he meant that the report is going to "paint a picture" that is politically devastating. Dersh also continued to push his assertion that there is nothing criminal about collusion, leading to a clash with Abrams.
Watch the clip above, via ABC News.