WATCH: Fox's Tammy Bruce Thinks Migrants Climbing Into Truck Are Scaling Border Wall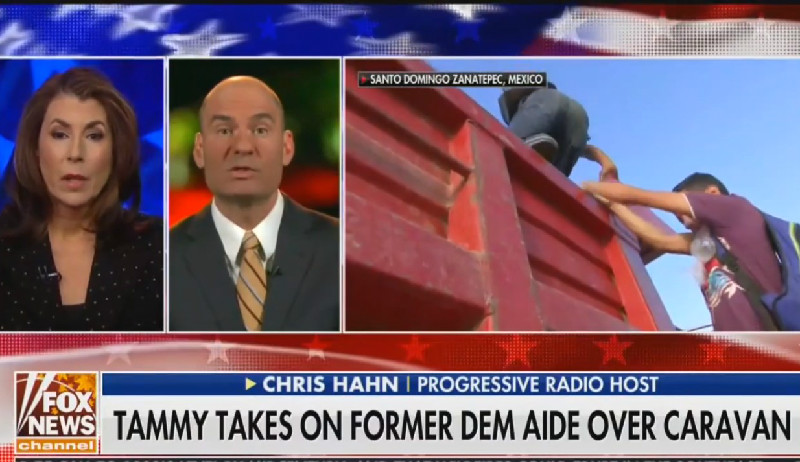 After dropping the issue like a hot potato immediately after the midterms, Fox News has picked back up its fearmongering coverage of the Central American migrant caravan as some of the asylum-seeking refugees have made their way to the border and the president has refocused his attention on immigration.
Subbing for regular host Tucker Carlson Friday night, Fox News contributor Tammy Bruce sparred with progressive guest Christopher Hahn over the migrant caravan. And at one point, she freaked over B-roll of migrants climbing into a truck bed, thinking they were scaling the border wall — the wall that largely doesn't exist.
After citing Homeland Security claims that there are 500 criminals embedded in the caravan, Bruce wanted to know if her guest felt the refugees should just be allowed in or if there should be an "orderly framework" for processing them.
"I think there should be an orderly framework here," Hahn responded. "From what I understand people in this caravan are going to seek asylum which is legally the way you can come here one of the ways you can come here legally. I don't think they are climbing the wall. I don't think we need to send troops to southern Texas."
Bruce stopped Hahn right there, pointing to the footage of migrants and exclaiming, "They're climbing the wall right there — they are climbing the wall!"
She added, "They're climbing the fences that exist now and of course the president is going to make this difficult because we do have to have some order there. I'm glad you agree we have to have some order."
This isn't the first time Bruce has had an embarrassing on-air gaffe while guest-hosting for Tucker. Back in July, she thought right-wing media site The Federalist and the Federalist Society were the same thing.
Watch the clip above, via Fox News.