Fox's Stuart Varney Blames Plunging Stocks On Blue Wave: Dems Won And 'Market Went Down'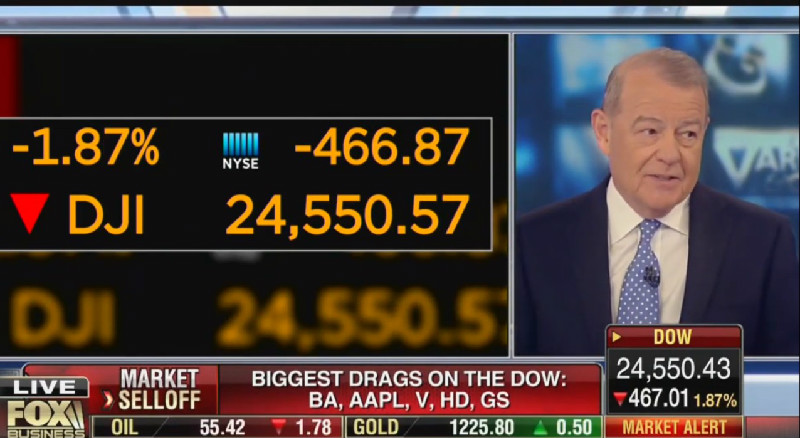 One of the ways President Donald Trump tried to scare voters to vote for Republicans during the midterm elections was telling them that stocks would plummet if Democrats won since they "like the Venezuela financial model."
The Stock Market is up massively since the Election, but is now taking a little pause – people want to see what happens with the Midterms. If you want your Stocks to go down, I strongly suggest voting Democrat. They like the Venezuela financial model, High Taxes & Open Borders!

— Donald J. Trump (@realDonaldTrump) October 30, 2018
Over the past few weeks, the market has seen quite a bit of volatility due to a variety of reasons, culminating in a huge sell-off on Tuesday morning. With the Dow Jones down 500 points early in the day, Fox Business host Stuart Varney decided to embrace the president's preemptive Dem blaming.
With a panel discussion revolving around the factors behind the dipping stocks, Varney noted that "the president did say if you want your stocks to go down, vote Democrat." As other panelists replied that they aren't so sure about that being the reason, Varney continued down that road.
"Well, Democrats did win the midterms and the market went down," The Trump-boosting commentator stated. "The president also warned the Fed not to keep raising interest rates. Well, they've shown no sign of backing away from raising interest rates, and the market is down."
He concluded, "So maybe the president got it right on two counts here — the Fed and the election."
Another panelist piped up to note that the Fed shouldn't be listening to the president or paying attention to the stocks when making their decisions on interest rates, instead focusing on what the numbers tell them.
Watch the clip above, via Fox Business.