Did Sam Donaldson Jump The Gun When He Said CNN Was Suing White House Over Acosta?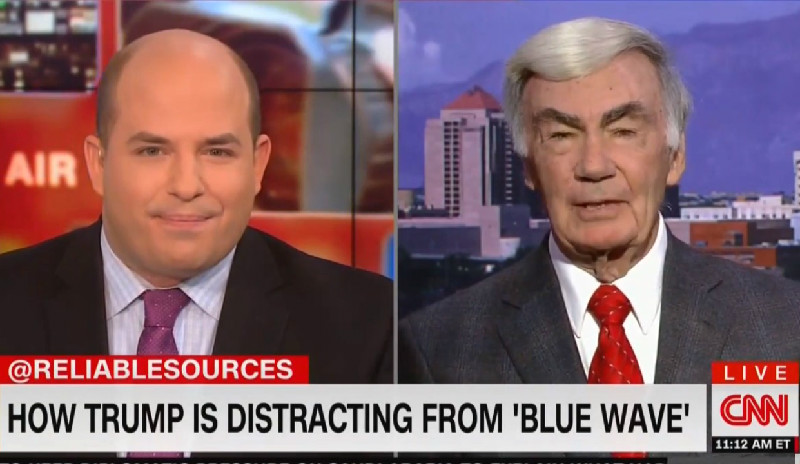 In the wake of CNN chief White House correspondent Jim Acosta having his 'hard pass' revoked by the Trump administration, veteran White House reporter Sam Donaldson may have gotten a bit ahead of himself when he told CNN's Brian Stelter that the network was suing the White House for taking away Acosta's press access.
In a discussion on Reliable Sources this morning, First Amendment lawyer Floyd Abrams said that CNN has a really strong case if they decided to file a lawsuit.
"I can understand CNN being reluctant to sue because the president keeps saying CNN is the enemy of me, and CNN might have reluctance to have a lawsuit titled 'CNN vs. Donald Trump,'" Abrams told Stelter. "That said, yes, I think they should sue."
The legendary attorney added that the White House kicking Acosta out following his contentious exchange with the president at Wednesday press conference — the White House has falsely claimed Acosta inappropriately placed hands on an intern during the exchange — set a dangerous precedent. He further noted that whether it was CNN or another outlet, someone is going to have to bring a lawsuit.
Stelter turned to Donaldson, pointing out that the president obviously wants to engage in another media fight before asking him if CNN needs to be sensitive to this issue of distraction.
"I hope I'm not mistaken, but it's my understanding that CNN and Acosta have sued, that there will be a court hearing on Tuesday on this very matter we've been discussing," Donaldson replied, causing Stelter to say he was unaware of a lawsuit.
"You may be ahead of me," Stelter added.
Donaldson then stated that he's been told about it because he's been asked to give an affidavit, noting that he's he's already prepared it to be submitted in court. Stelter didn't reply further to Donaldson's claim.
After the broadcast, however, a CNN spokesperson provided the following statement on the issue: "No decisions have been made. We have reached out to the White House and gotten no response."
Of course, this isn't to say that CNN won't be filing a suit against the White House if it doesn't reinstate Acosta's press access, especially as the network has said Acosta has their full support. Just that as of today, no suit has been filed — as Donaldson stated — and it hasn't been decided if they will be going to court, let alone on Tuesday.
Watch the clip above, via CNN.