Avenatti Accuses Tucker Of Lying About Alleged Assault At Country Club: 'You Were The Aggressor'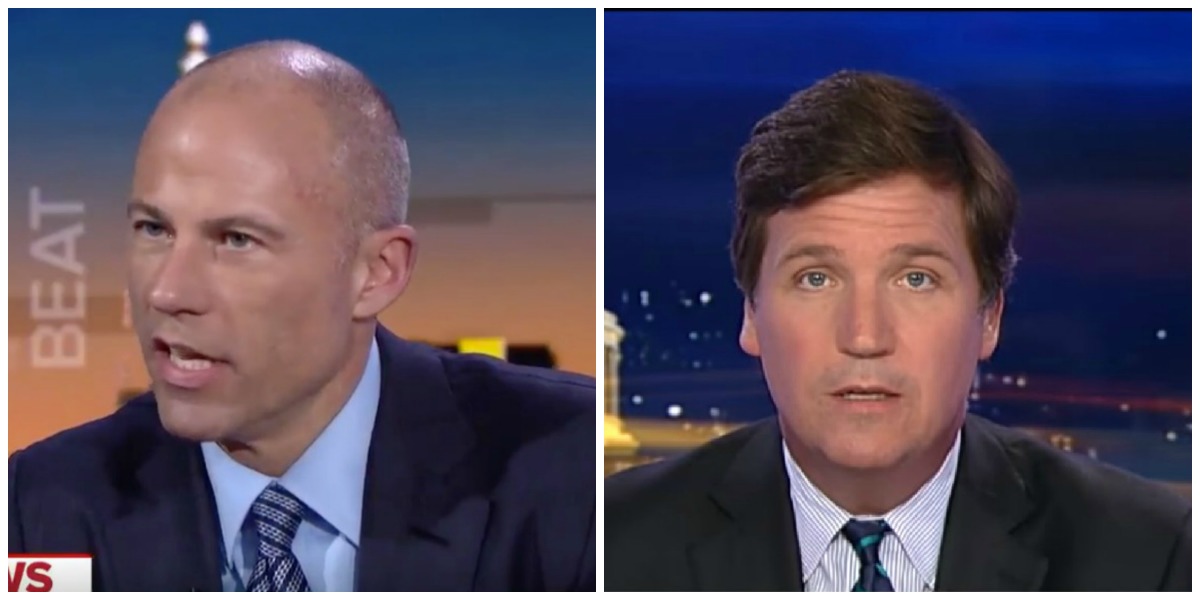 Tucker Carlson just can't stay out of the news.
Earlier today, fame-hungry Stormy Daniels attorney and possible 2020 presidential candidate Michael Avenatti — someone Carlson has repeatedly referred to as the "creepy porn lawyer" — tweeted out a cell phone video while saying he was investigating "an alleged assault on a gay latino immigrant" committed by Tucker and his associates at a Virginia country club.
1/2 – We are investigating an alleged assault on a gay latino immigrant committed by T. Carlson and/or members of his inner circle at a club in VA in Oct. It likely includes underage drinking in violation of VA law. Link to a portion of the incident:https://t.co/QcbCRHrplP

— Michael Avenatti (@MichaelAvenatti) November 10, 2018
2/2 – We are attempting to locate additional witnesses and to identify those depicted in the video. In particular, we need assistance identifying the balding man that grabs the man seated at the bar. We anticipate charges being filed. Anyone with knowledge, pls contact us.

— Michael Avenatti (@MichaelAvenatti) November 10, 2018
With Avenatti tweeting that he "anticipates charges being filed" and that he's "attempting to locate additional witnesses," Carlson released a lengthy statement stating that the man called his 19-year-old daughter a "whore" and a "fucking cunt," causing his son to throw a drink at the man. Tucker also said it took a tremendous amount of restraint for him not to hit the man with a chair.
Below is the full statement:
"On October 13, I had dinner with two of my children and some family friends at the Farmington Country Club in Charlottesville, Virginia. Toward the end of the meal, my 19-year-old daughter went to the bathroom with a friend. On their way back through the bar, a middle aged man stopped my daughter and asked if she was sitting with Tucker Carlson. My daughter had never seen the man before. She answered: 'That's my dad,' and pointed to me. The man responded, 'Are you Tucker's whore?' He then called her a 'fucking cunt.'
My daughter returned to the table in tears. She soon left the table and the club. My son, who is also a student, went into the bar to confront the man. I followed. My son asked the man if he'd called his sister a 'whore' and a 'cunt.' The man admitted he had, and again become profane. My son threw a glass of red wine in the man's face and told him to leave the bar, which he soon did.
Immediately after the incident, I described these events to the management of the Farmington Country Club. The club spent more than three weeks investigating the incident. Last week, they revoked the man's membership and threw him out of the club.
I love my children. It took enormous self-control not to beat the man with a chair, which is what I wanted to do. I think any father can understand the overwhelming rage and shock that I felt seeing my teenage daughter attacked by a stranger. But I restrained myself. I did not assault this man, and neither did my son. That is a lie. Nor did I know the man was gay or Latino, not that it would have mattered. What happened on October 13 has nothing to do with identity politics. It was a grotesque violation of decency. I've never seen anything like it in my life."
Following the release of Carlson's statement, Avenatti responded by calling the Fox News star a liar while claiming that he was both the "aggressor" and told the man to "go back from where you came from." He additionally criticized Carlson for letting his underage daughter drink while accusing Tucker of being "intoxicated."
1/3 – @TuckerCarlson – your stmt about what transpired is an absolute lie. Your daughter nor your son were called those things. The man never admitted it. Your son committed assault and battery. You committed assault (learn the difference). Your friend" committed assault…

— Michael Avenatti (@MichaelAvenatti) November 10, 2018
2/3 – and battery (on video). You are the aggressor in the video as is your friend. The man at the bar sits there calmly. Numerous witnesses contradict your claim of innocence. Your daughter was drinking underage in a bar with your assistance and knowledge. You were intoxicated.

— Michael Avenatti (@MichaelAvenatti) November 10, 2018
3/3 – You told the man to "go back where you came from" before the video starts. And if you were so innocent, why didn't you disclose it weeks ago as you recently did in connection with the protest at your home?

— Michael Avenatti (@MichaelAvenatti) November 10, 2018
The short video clip that Avenatti shared doesn't show Carlson assaulting anyone, only showing Tucker yelling at someone else to "get the fuck out of here." It also shows others in the room trying to get Carlson and others to calm down. One person could be heard saying "there's no excuse for violence."
The Fox News conservative primetime host has been in the news recently after an anti-fascist group protested outside his house. Carlson called the protest a "threat" while claiming the protesters cracked his front door and threatened to bring a pipe bomb, resulting in Fox News to issue a statement describing the incident as "reprehensible."