Ex-Fox News Anchor Alisyn Camerota Tears Into Hannity For Campaigning With Trump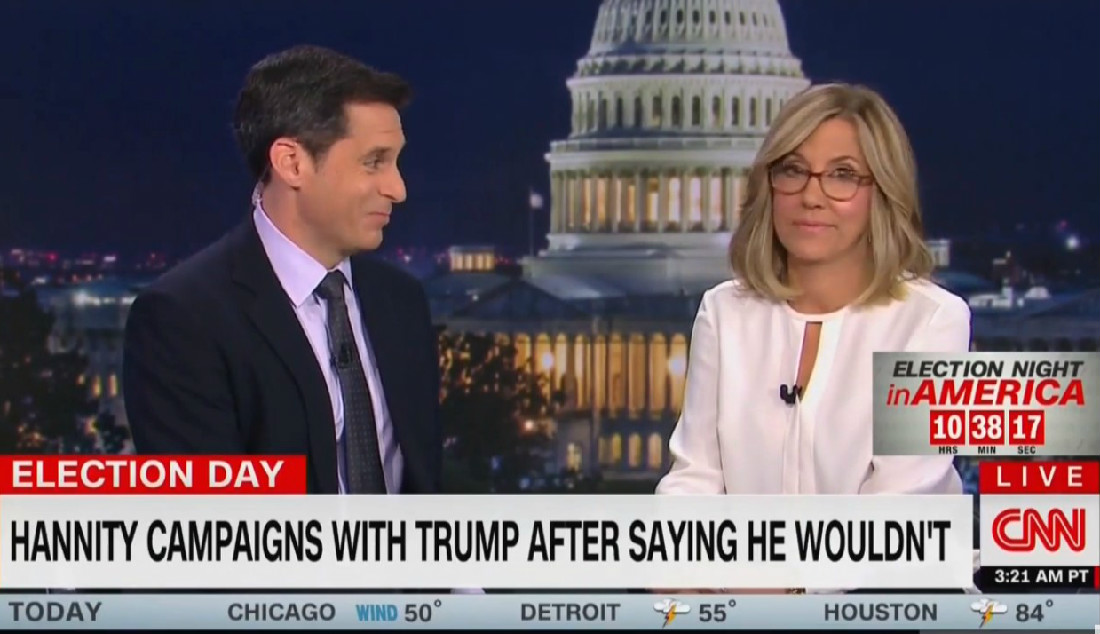 CNN host Alisyn Camerota tore into former Fox News colleague Sean Hannity for taking the stage at Trump's Missouri campaign rally Monday night after both he and Fox insisted beforehand that he wouldn't be part of the event. The network and its star were forced to address the issue after the Trump campaign promoted a "special guest appearance" by Hannity.
In spite of reports, I will be doing a live show from Cape Girardeau and interviewing President Trump before the rally. To be clear, I will not be on stage campaigning with the President. I am covering final rally for my show. Something I have done in every election in the past.

— Sean Hannity (@seanhannity) November 5, 2018
After hosting his primetime show live from the arena and having a short friendly chat with the president backstage, Hannity was called up to the podium by Trump to address the crowd. After calling the press in the back of the arena the "fake news," Hannity then touted the president's record while saying Trump has kept his promises.
During this morning's New Day broadcast, Camerota mocked Hannity for feigning surprise that the president would bring him up on stage.
"Who does he think he's fooling by saying he had no idea he was going to be invited up there?" Camerota asked. "Here's what's going on at Fox: They know, vaguely, that they're not supposed to have one of their hosts endorse a candidate or a party, but Sean Hannity can't help himself."
She continued, "The whole, 'Oh, shucks, me? You want me to go up here?' After he had originally said, I believe, that he was going to be involved in the campaign, they are having a schizophrenic moment trying to figure out what their role is supposed to be with the Trump presidency. I could go on."
Co-host John Berman told her to please keep going because he was "enjoying it," causing Camerota to ask liberal panelist Nina Turner if she could imagine the conservative outrage if CNN anchor Don Lemon took the stage to campaign for Georgia gubernatorial candidate Stacey Abrams.
As of this publication, Fox News has been silent about Hannity's on-stage performance. This afternoon, the network released a statement saying they don't condone talent participating in campain events, calling it an "unfortunate distraction" that's been addressed.
Watch the clip above, via CNN.