'God Bless Him': Fox's Trish Regan Says Trump Sends Out 3 AM Tweets Because He's A 'Workaholic'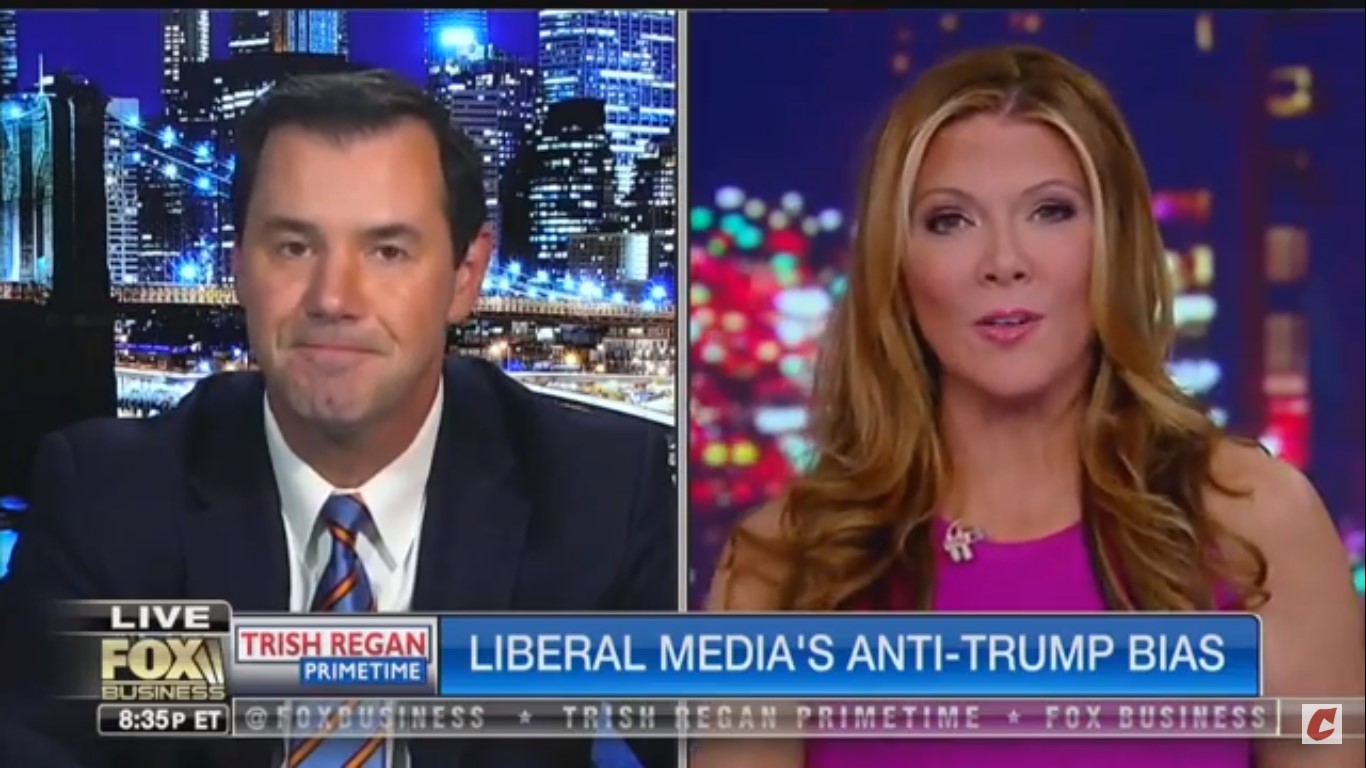 While most of the country was fast asleep early Friday morning, the president was letting his Twitter fingers do some walking, firing off a post about "lowly rated CNN" and others blaming him for the more than dozen pipe bombs sent to prominent Democrats and, yes, CNN.
Funny how lowly rated CNN, and others, can criticize me at will, even blaming me for the current spate of Bombs and ridiculously comparing this to September 11th and the Oklahoma City bombing, yet when I criticize them they go wild and scream, "it's just not Presidential!"

— Donald J. Trump (@realDonaldTrump) October 26, 2018
As this tweet was sent out just past 3 AM ET, morning show pundits discussed not only the abhorrent content of it — the president was attacking a network that had been targeted by a serial mail bomber obviously focusing on Trump critics — but also the fact that POTUS was up in the middle of the night. This resulted in some questioning the president's psyche and metal fitness.
No worries, though. Fox Business host Trish Regan is here to the rescue.
During a segment on her new primetime show Friday night, Regan and The Hill media reporter Joe Concha slammed media figures like MSNBC's Joe Scarborough for claiming that Trump was dealing with the "early stages of dementia." After Concha said that a condition like that would be apparent in a president because it's the "hardest job," Regan wanted to point out just how hard Trump works.
"You mentioned the 3 AM thing, and I want to get back to that for a second because this is a president who seems to be a workaholic," the Fox host declared. "And he's always working, and he prides himself on that. Apparently he doesn't need so much sleep. God bless him — I wish I didn't need much sleep."
"Four hours I think," Concha interjected, holding up his fingers while noting how much sleep our hard-working president gets a night.
Regan went on to bring up Hillary Clinton's 2008 "3 AM" campaign ad to claim that Clinton promised to be up and working in the wee hours of the morning to defend Trump's tweeting habits.
"So in other words, she was promising to work at 3 AM because shouldn't everybody want their president working at 3 AM?" she stated, somewhat misrepresenting the ad's message. "Now, I get it, it was a tweet, which is a little different than an important phone call. I understand that. But to criticize him for the hour in which he may send a tweet, I find just a little, a little aggressive on their front."
You got that, Liberal Mainstream Media? Stop being so aggressive with our president.
Watch the clip above, via Fox Business.