Rush Limbaugh Suggests Democrats Are Behind Bombs: 'Republicans Just Don't Do This Kind Of Thing'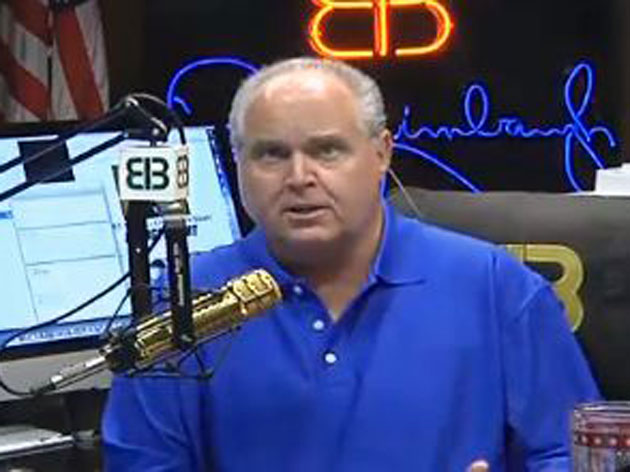 In the immediate wake of a number of explosive devices sent to prominent Democrats such as former President Obama, the Clintons, ex-Attorney General Eric Holder, former CIA Director John Brennan, CNN and philanthropist George Soros, pro-Trump media figures have rallied around the talking point that this is all a false flag set up by the Democrats to impact the midterm elections.
During his top-rated radio program today, conservative host Rush Limbaugh fully embraced this narrative, sounding no different than Alex Jones or an alt-right YouTube vlogger.
Largely dismissing the bombs sent out to multiple locations by noting that the device sent to the Clintons was intercepted before they received it at their home, Limbaugh said that there's a "smell test this stuff has to pass and so far a lot of people whose views are in the air not quite certain what to make of this." He added that it isn't Republicans who are showing up at offices yelling at elected officials.
"Republicans just don't do this kind of thing," Limbaugh declared, claiming that every time there is a mass-shooting Democrats try to blame the Tea Party and conservatives.
"And if a Democrat operative's purpose here is to make it look like, hey, you know, there are mobs everywhere, the mobs are not just Democrat mobs," he huffed. "I mean, look at this, you've got people here trying to harm CNN, and Obama, and Hillary and Bill Clinton, and Debbie blabbermouth Schultz. It just — it might serve a purpose here."
After rambling on a bit more on the possibility that it could be Democrats who set this whole thing up, Rush welcomed on a caller named Tonya who immediately expressed skepticism over the bombs that were mailed out.
"Honestly, I'm so distrusting of these people I wouldn't put it past them to pay someone off — I'm really so distrusting of the Democrats," she told Limbaugh while invoking the midterms.
"Well, exactly! Exactly!" Rush declared before talking about the poll numbers before the election.
Listen to the segment below.