Fox News Contributor Sara Carter Is 'Reporting' On The Caravan…But Not For Fox News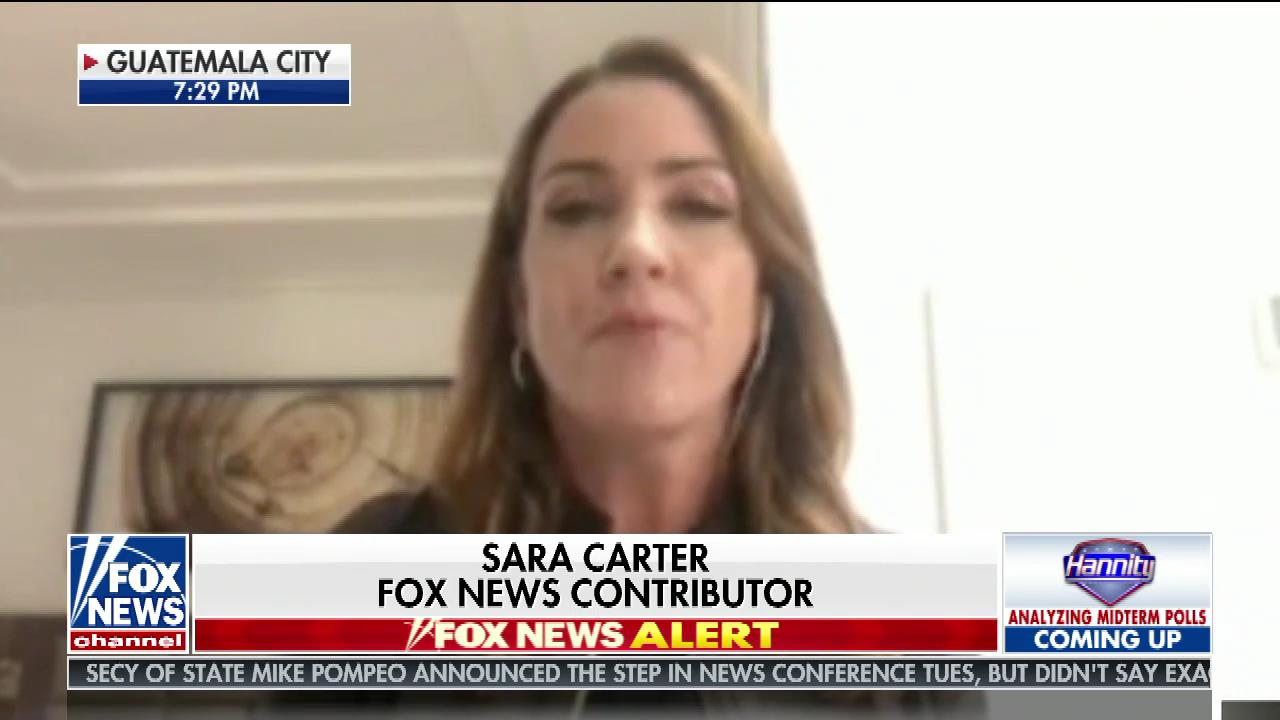 With President Donald Trump asserting that the Central American migrant caravan that has been THE focus of cable news the past few days has been infiltrated by criminals and "unknown Middle Easterners," several Fox News commentators and hosts have cited the reporting of Fox News contributor Sara Carter as proof that MS-13 gang members are part of the asylum-seeking refugees. They've noted that she has traveled down to Central America to report on the caravan, with one host angrily chastising a co-host on-air for apparently not believing a colleague.
But while Carter has indeed traveled down to Guatemala, she has not done so as a Fox News reporter and her "reporting" is not being utilized by Fox's news division.
On Monday, in a tweet that quickly caught fire in the conservative Twittersphere, Carter stated that Guatemalan officials told her that they'd found people from Bangladesh, India, and Africa in the caravan and she'd personally run into several MS-13 members.
Guatemalan intelligence discovered people from India, Bangladesh, Africa had also joined in with the caravan -I bumped into a number of young MS 13 gang members. @JudicialWatch Chris Farrell and Guatemalan Secretary of Strategic Intelligence Mario Duarte on the border w/ me pic.twitter.com/qFkRUuXEiv

— Sara A. Carter (@SaraCarterDC) October 22, 2018
During a Monday night Hannity segment, Fox News national security strategist and former Trump aide Seb Gorka — someone who has reportedly been banned from Fox's "hard news" shows — got into it with Fox News correspondent Geraldo Rivera over the migrant caravan. During their back-and-forth, Gorka brought up Carter's claim on MS-13 and Judicial Watch's highly misleading report on 100 ISIS terrorists being caught in Guatemala as evidence the caravan was a risk to national security.
Another Trump boosting Fox News personality cited Carter on Tuesday afternoon. This also took place during a heated discussion, but in this instance, it was implied that Carter was down in Central America reporting for the network. On The Five, co-host Jesse Watters falsely claimed very few outlets had reporters covering the caravan before saying "Fox News — we have Sara Carter down there."
Watters then got into a shouting match with fellow co-host Juan Williams when Williams criticized Republicans and conservatives "fearmongering" over the caravan. "Sara Carter, one of your colleagues here at Fox News, went down there. You're not there, she's down there, she's a colleague," Watters exclaimed.
He went on to say Carter had "confirmed" MS-13 members were "among the caravan" before scolding Williams for calling "your colleague a liar" while he sits on his "tush in a nice air-conditioned studio in Manhattan."
Despite the way Watters described Carter's reporting, a Fox News spokesperson confirmed to us that Sara Carter went down to Central America on her own and wasn't representing the network as a reporter.
Later Tuesday night, Carter appeared on Hannity via remote from Guatemala City to give Sean Hannity's viewers some "breaking news" from the caravan. Prior to giving her report, Hannity introduced her as "an independent investigative reporter." She proceeded to claim that she saw MS-13 members and "other gangs" as part of the migrant caravan while stating that intelligence officials from Guatemala and the United States had confirmed ISIS had infiltrated the group.
Interestingly, it would appear she has done all of her reporting this week from Guatemala for what she calls the "second wave" of the caravan. Meanwhile, the caravan that has been the focus of the American media is moving through Mexico as it crossed the Mexico-Guatemala border several days ago. Guatemala City, where Carter did her dispatch, is several hours driving distance from the border.
Carter is perhaps best known as Hannity's go-to reporter for all things Deep State and the REAL Russia scandal. While she has been a Fox News contributor for nearly a year now, she only appears on the opinion/entertainment side of Fox News and mostly on Hannity. Her reporting is not utilized by the network's news division and has been found for the past year at her self-named blog, SaraACarter.com.
As of this post's publication, her site doesn't have any articles up yet on her migrant caravan reporting. It does, however, have several attributed in the past couple days to a "staff writer" on Trump trolling Obama and CNN's Jim Acosta mocking Sarah Sanders.