Trump Campaign Aide Katrina Pierson: Migrant Caravan A '$35 Million Project' Funded By Leftists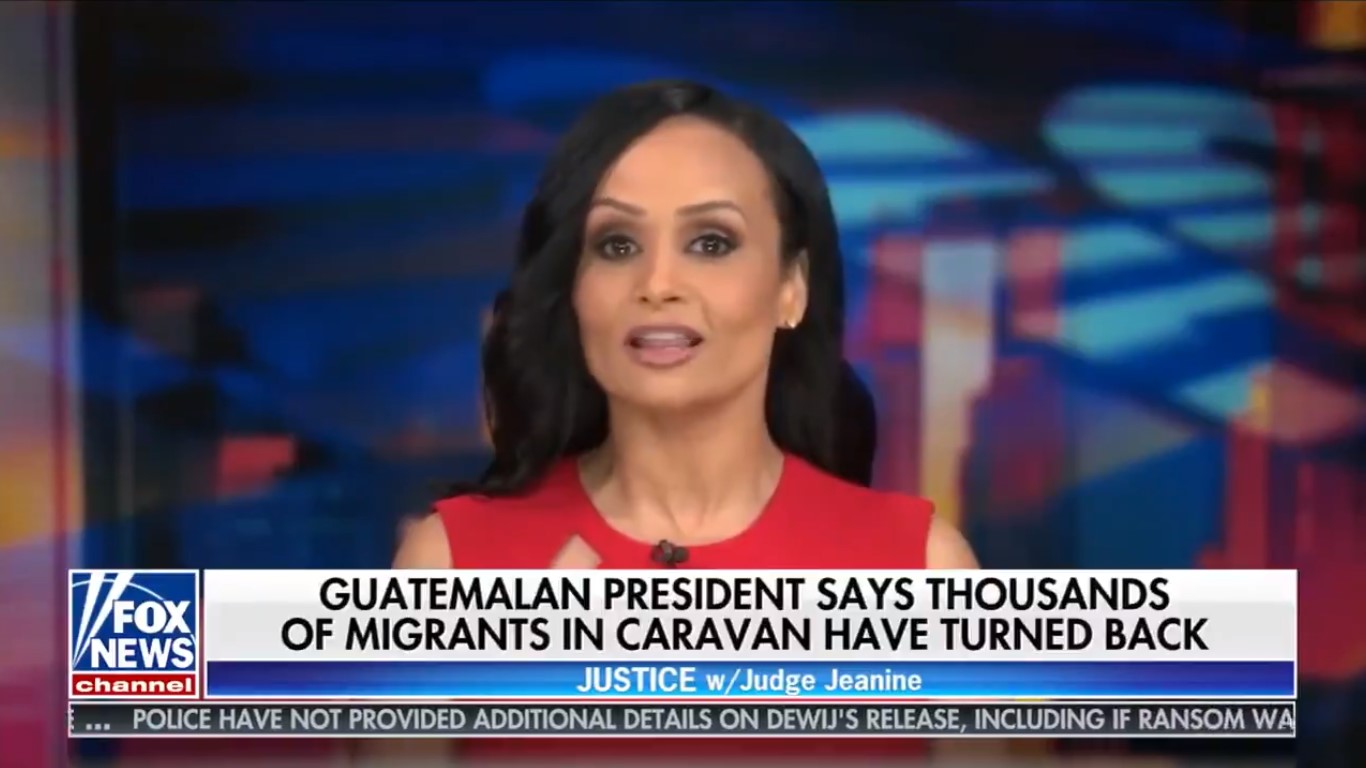 It appears that folks on the right are still pushing the baseless conspiracy theory that George Soros and liberals are behind the caravan of Honduran migrants making their way to the U.S.-Mexico border.
Days after Rep. Matt Gaetz (R-FL) shared a context-free video that purportedly showed Honduran women and children receiving cash to "join the caravan & storm the US border" that resulted in President Trump claiming the Democrats were behind it all, a Trump campaign senior advisor parroted the theories while adding some additional details.
Appearing on Fox News' Justice with Judge Jeanine, Katrina Pierson — who once said that America didn't go into Afghanistan until Barack Obama was president — called the asylum-seeking migrants "an invasion" before rattling off a series of claims straight from the fever swamps.
"Let's not pretend this is organic," Pierson stated. "We're talking about men — thousands and thousands of men — only scattered with women and children for protection who are actually marching across the border."
She continued, "This is another leftist funded operation fully flagged with several innocent victims, photo-ready outrage designed to pull at the heartstrings of Americans, complete emotional attachment designed to distract from the rational analysis of this."
Katrina Pierson promotes Honduran migrants conspiracy theory: "This is another leftist funded operation… this is a 35 million dollar project." pic.twitter.com/kaXGAFsUeq

— Contemptor (@TheContemptor) October 21, 2018
She went on to say the caravan was "no more organic" than Christine Blasey Ford's allegations "coming out at the 25th hour" during Brett Kavanaugh's Supreme Court confirmation in order to "get rid of due process" in America. "This is a $35 million project," Pierson added.
This caused progressive radio host Christopher Hahn to object, saying if she wanted to go down the "conspiracy theory hole" there was no way Democrats did this because the images of migrants marching north are tailor-made to rally the Republican base.
Undeterred, and after Judge Jeanine Pirro wanted to know who was organizing this caravan, Pierson said that Honduran migrants have to pay $7,000 to traffickers to make it to the United States and that impoverished people can't pay that, so someone was obviously footing the bill for this caravan. She ended by also saying this was done by "leftists" and not necessarily American Democrats, obviously floating the notion that this was done by the right's favorite boogeyman George Soros as well as other liberal organizations.
Fact-checkers have noted that not only is there no evidence that Soros, Democrats or other US organizations are funding the caravan, but that multiple reports on the ground state that the caravan was organized and came together organically. Also, Pierson is obviously trying to conflate asylum seekers paying coyotes to smuggle them into America with a large group of migrants publicly traveling on foot to the border, as if someone would need to pay $7,000 to walk with thousands of others.