The Daily Caller Deletes 'Stormy Daniels Halloween Costume Starter Pack' Horseface Tweet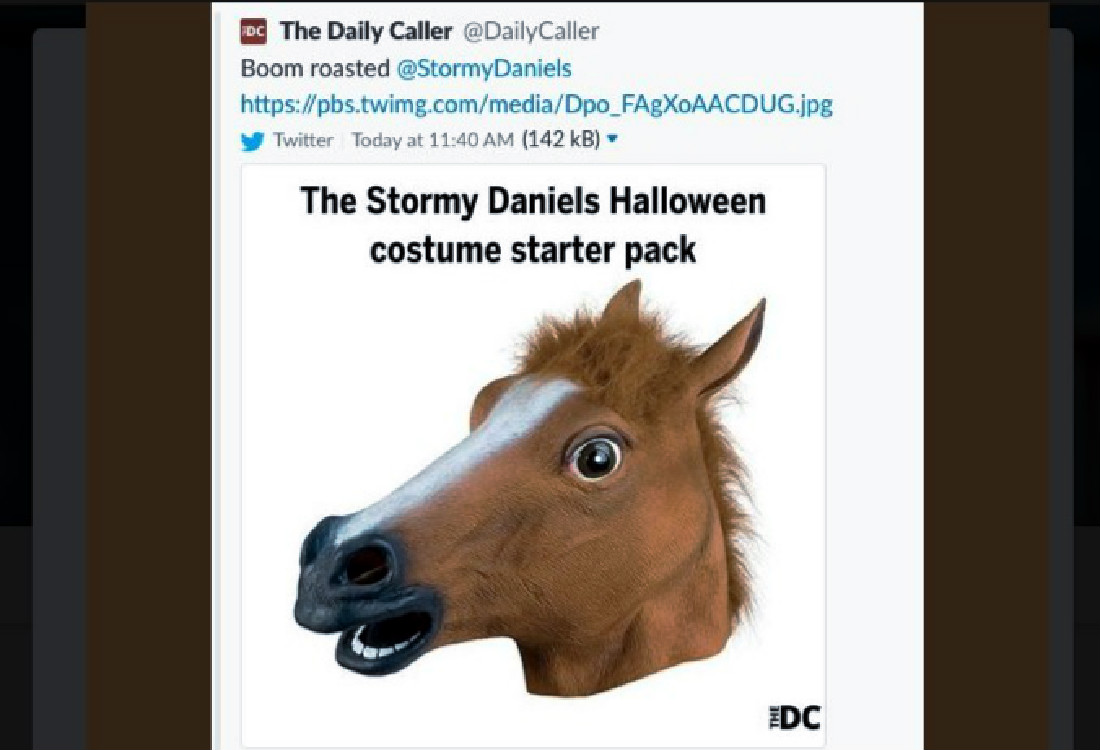 Keep it classy, Daily Caller.
Shortly after posting a news story with the headline 'Trump Drops Devastating Nickname on Stormy Daniels' after the president called the adult film star "Horseface" while gloating about a federal judge tossing her defamation lawsuit, the conservative news site decided to go right down in the gutter.
In a tweet captured by The Daily Beast's Maxwell Tani, the Tucker Carlson-founded outlet tagged Daniels while declaring that she'd been "roasted." They also attacked a watermarked image of a horse's face accompanied by the caption "The Stormy Daniels Halloween costume starter pack."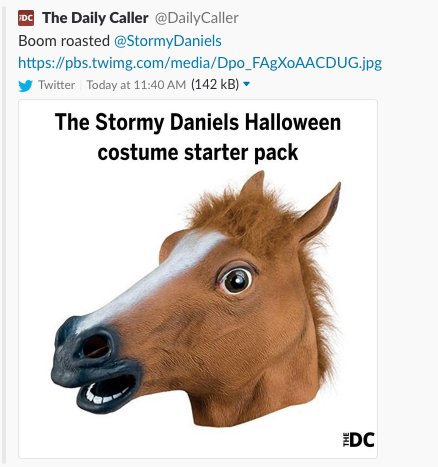 Someone at the outlet, meanwhile, must have come to their senses and realized just how bad taste the tweet was as it was deleted in short time.
The reaction to the image, however, caused head-shaking and outrage nonetheless.
Classy https://t.co/tOfwFlMMWg

— Mikey Smith (@mikeysmith) October 16, 2018
Cool cool, very normal news outlet https://t.co/6IMr2lWBQb

— Parker Molloy (@ParkerMolloy) October 16, 2018
Journalism at its finest. #facepalm https://t.co/qac9VbJGaC

— Matt McClure (@mattjmcclure) October 16, 2018
This is a leading Republican publication started by Fox News' Tucker Carlson. https://t.co/B6vLcaDvyb

— John Scare-avosis 🇺🇸 (@aravosis) October 16, 2018
All Republicans are exactly the same and don't you dare tell me there are any good ones https://t.co/RRU6R95Kol

— Vote Matt Negrin for NY GOV to see Trump's taxes (@MattNegrin) October 16, 2018
sigh… https://t.co/Gc99BBRskm

— Abby D. Phillip (@abbydphillip) October 16, 2018
When reached for comment on the deleted tweet, Editor-In-Chief Geoffrey Ingersoll had the following to say when asked who made the image and tweeted it out and who decided to delete it.
"I have no idea," he wrote in an email to Contemptor. "They probably deleted it because the starter pack is missing things like a tripod, extra large breast implants, a stripper pole, and maybe a picture of Ron Jeremy."