Tucker Carlson Leads Cable News In Demo Thursday, Maddow Sixth In Total Viewers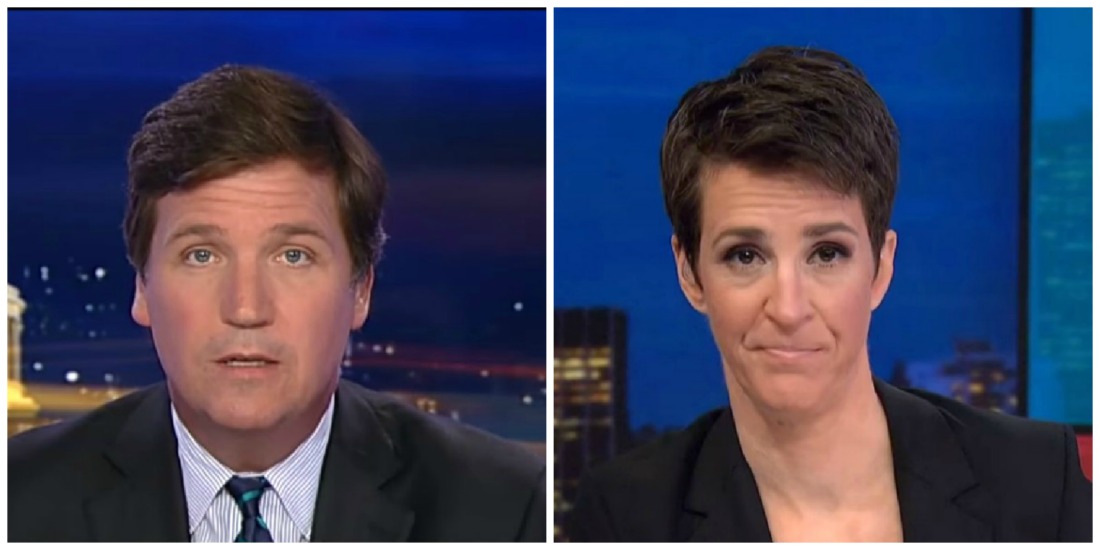 Thursday's cable news coverage found itself dominated by the Kanye West Oval Office meeting. (Yes, really.) And it would appear that cable news viewers chose Fox News to hear about Kanye's off-the-rails summit with President Trump as the network led across the board and boasted the top five programs of the day.
According to Nielsen, Fox News averaged 2.934 million total viewers and 545,000 in the key 25-54 demographic during the 8 PM to 11 PM primetime hours. MSNBC placed second in both metrics, drawing 2.033 million viewers overall and 346,000 in the demo. CNN pulled in 320,000 demo viewers and 1.061 million total viewers.
In the 9 AM to 5 PM daytime slot, Fox attracted 1.840 million viewers overall and 329,000 in the key demo. CNN captured a demo audience of 215,000 and 873,000 total viewers. MSNBC averaged a total viewership of 962,000 and 145,000 in the demographic.
Fox's Tucker Carlson Tonight led cable news in the key demo (570,000) and placed second in total viewership (3.000 million). FNC's Hannity came in first in total audience (3.132 million) and took second in the demo (551,000). Fox News' The Five finished third in both the demo (526,000) and total audience (2.807 million).
The top-rated non-Fox program of the day was MSNBC's The Rachel Maddow Show, which finished sixth in total viewers (2.561 million) and seventh in the demo (472,000).
Over on CNN, the most-watched show was the 10 PM broadcast of CNN Tonight, which drew 1.072 million total viewers and 343,000 in the demographic.